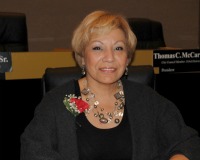 When Leticia Colon learned the City Charter prohibits City Council members from serving on another city board she had a decision to make: the legislative body or the Board of Education. She chose the school board where her vote is critical to the majority vote controlling education decisions.

Of course, supporters of the minority bloc on the school board claim Colon had already made her decision to resign from the school board when she was one of six who voted to dissolve the school board in July of 2011 in favor of state control. While a state-appointed board was running things Colon won a seat on the City Council. The Connecticut Supreme Court invalidated state control and reseated an elected school board following the results of September's special election. Colon had been one of five school board members whose terms had not expired. She resigned from the council in favor of the school district where her vote is key to moving forward initiatives of Superintendent of Schools Paul Vallas, the turnaround specialist, who will be in charge of the district until the end of the school year in 2013.
Colon lives in the city's 131st Council District, domain of District Leader Mitch Robles, which includes the South End, Downtown and  West End. Technically, when a vacancy occurs on the legislative body, it's filled by a vote of the council members. In practice, however, they follow the recommendation of the nine-member town committee representing the district advanced by, in this case, district leader Robles.
Names floating as possible Colon replacements include Seaside Village resident Jack Banta, a member of the Harbor Commission, as well as Americo Santiago, former council member and state representative who has reemerged as a political player in the city, particularly managing city campaigns, most recently the successful State Senate primary win of State Rep. Andres Ayala.