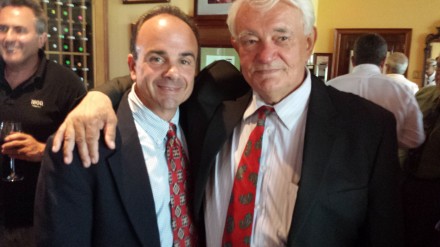 Monday afternoon Joseph Ganim and Joseph Kustra embraced beefalicious all over again. Fifteen years ago Ganim, sometimes with Democratic Town Chair Mario Testa at his side, traversed to the Tollgate Steakhouse in Mamaroneck NY to schmooze restaurant maven Kustra to open a New York-style steakhouse in Connecticut's largest city. Ganim's power of persuasion prevailed and Kustra, a Monroe resident, opened his high-end steakhouse Downtown on Fairfield Avenue. Ganim's campaign team used the venue as an example of Ganim's business recruitment and also to assuage concerns that business investment would dry up more than Kustra's dry aged beef if Ganim returns to office.

One by one, small business owners Kustra, Michael Nunes, Juan Hernandez, Steve Eaton, Pedro Segarra, Yvette Gonzalez and others took turns praising a Ganim return to City Hall more than 12 years after he was sidelined by a conviction on federal corruption charges.
"He's the only one who really attracted business," said Kustra who put out a king-fest spread of ribs, chops and thick cuts of bacon for about 50 guests supporting Ganim's comeback. It was not a fundraiser, but a media event.
In this campaign season Ganim is trying to turn lemon into lemonade, praising business owners who had publicly soured of his comeback but now that he's the Democratic nominee, need to cover their butts, including Robert Christoph, developer of Steelpointe Harbor featuring anchor tenant Bass Pro Shops. Ganim cleared the East Side peninsula for development before he left office, but Mayor Bill Finch made it a linchpin of his redevelopment efforts with cranes in the air, albeit a losing effort to Ganim.
Christoph was not at at Joseph's Steakhouse but Ganim referred to him as his "friend" with whom he has had conversations about the East Side development.
Ganim said government must be "sensitive and accommodating to businesses for expansion" opportunities, highlighting the little things that mean a lot such as quality of life issues, addressing crime and being an ear for concerns.
Kustra provided a lighter moment proclaiming all kinds come to his restaurant … "Jews, Gentiles, Democrats, Republicans and mobsters … as long as they come."
"This town needs a doer," Kustra said, "He's a doer."
Kustra's declaration is not new. He had regaled Ganim even in the years a comeback was a lonely thought for the ex mayor.
One by one the small business owners said high taxes are crippling businesses.
Town Chair Mario Testa was on hand beaming for the days back in the 1990s when the economy was roaring. He lamented the lack of private investment, asserting most development in the city is as a result of taxpayer-funded giveaways that won't produce revenue for "40 years."
Yvette Gonzalez, who owns Beyond Homecare Staffing Services, announced she was forced to move her business out of the city because of high taxes but promised if Ganim returns to city hall she will return.
Ganim hopes leveraging the might of small business owners in Joseph's Steakhouse is protein for the final weeks of the campaign.