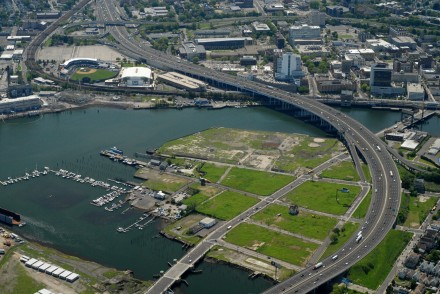 The latest: the Connecticut Department of Transportation is planning to request bids for street improvements slated to begin in the spring of 2012 for the mixed-use Steelpointe Harbor redevelopment on the East Side, according to officials associated with the project.

Site improvements in this phase are expected to include separating the storm and sewer lines under Stratford Avenue, realigning and widening the road and traffic signalization.
Bridgeport Landing Development, led by Robert Christoph, has been working through the local, state and federal regulatory process in recent months. Bridgeport Landing has not announced a retailer for the development, but site improvement is a key step for retailers to commit to the project. A lot of dirt is being moved around on the peninsula including clean fill transported from the construction site of the scheduled regional magnet high school in the city near Trumbull.
The city was awarded $11.5 million from the federal Transportation Investment Generating Economic Recovery (TIGER II) program for the harbor development project. Budget maneuvering in Washington had threatened to derail the money for the city, but the grant was rescued during April legislative negotiations.
This redevelopment has been on and off for nearly 30 years with several different developers in the mix through the decades. The federal funding was the first credible public declaration that the project could be real. Skeptics have wondered if it would ever happen and pessimism will still exist in light of the economy, the project's history and no major tenant announced.
The U.S. Army Corp of Engineers issued a news release in September about a permitting request from Bridgeport Landing:
The Bridgeport Landing Development, LLC is seeking a permit from the U.S. Army Corps of Engineers, New England District to conduct work in waters of the United States in conjunction with proposed work in Bridgeport, Conn. The proposed project includes modifying a shoreline, performing dredging, installing a marina, and installing a boardwalk for public access and to create a tidal wetland. The work is proposed in Bridgeport Harbor at Steel Point in Bridgeport.

The applicant proposes to perform the following work: remove a concrete in-take structure, two boat ramps, fixed piers, floats and pilings, excluding the Tallmadge Pier; install approximately 470 linear feet of sheet pile bulkhead with a concrete cap with a tie-back system comprised of a support system installed landward of the sheeting and backfill; and install and maintain an approximately 33-foot wide by 470-foot long public access boardwalk, of which 125 feet will be a fishing pier.
For more about the project including renderings www.bldsteelpoint.com/main.htm