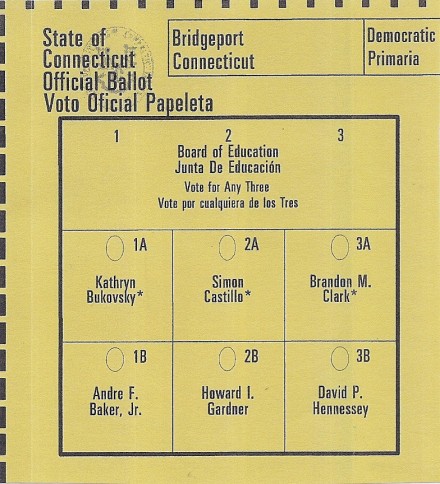 Monday night Gabrielle Parisi, an organizer for the community action group Citizens Working For A Better Bridgeport that hosted a candidates forum at the Bridgeport Public Library Downtown, observed all the school board candidates addressing the public featured solid credentials. She's right. The six Democrats running in a September 10 primary for Board of Education aren't exactly political hacks. There was no drama at the Monday night forum. The candidates presented strong professional backgrounds with extensive involvement in neighborhoods and schools. Over the course of the next few weeks campaign operatives of the respective camps will beg to differ, but that's the nature of the political beast.

The Democratic Town Committee throughout the years has endorsed–and elected–some dubious candidates for school board, but the notion it cannot select independent-minded school board candidates is a fallacy. Max Medina, who served selflessly on the school board for years, is one example of a Democratic-endorsed school board member unencumbered by the wishes of the party apparatus. So too Bobby Simmons, who has decided not to seek reelection this year. Last year Jacqui Kelleher, a professor at Sacred Heart University, won a school board seat endorsed by the DTC. What's her connection to the political establishment? She's a new face not connected to the party organization.
It's also a fallacy endorsed Democrats for school board cannot be defeated in a primary. In 2007, Democratic-endorsed incumbent Auden Grogins was defeated in a primary by Dolores Fuller. Grogins, by the way, one year later defeated Democratic-endorsed incumbent Bob Keeley, the longest-serving legislator in city history, in a State House primary. In 1999, a school board challenge slate called Education First won a majority on the machine count against the endorsed candidates that survived by absentee ballots.
One year prior in 1998, Paul Ganim defeated the Democratic-endorsed candidate Kevin Boyle in citywide primary for judge of probate. In recent years other endorsed Democrats were not ballot successful in several races. Tom McCarthy, today City Council president, was the endorsed candidate in his primary loss several years ago to State Rep. Jack Hennessy. Last August Andres Ayala defeated Democratic-endorsed Ernie Newton and incumbent Ed Gomes in a primary for State Senate.
On September 10 endorsed Democrats for school board Katie Bukovsky, Simon Castillo and Brandon Clark will be challenged by Andre Baker, Dave Hennessey and Howard Gardner. Both slates will be well financed to make their case to electors, identify friends and drag them to the polls. The three top vote-producers from the two lines will go on to the general election.
By the way, Republicans and Connecticut Working Families Party have endorsed their own candidates who are also credentialed for the November general election. Republican and WFP candidates will duke it out to claim two state-required minority-party seats among the five open slots.
Good candidates don't always make effective public officials and mediocre candidates can sometimes surprise when they get into office. There's a growing sense in political circles, however, too much is on the line with the future of city schools to allow party hacks to control the day.
If the group of Democrats running for school board from both slates have any baggage it's not readily apparent. In time we'll see.