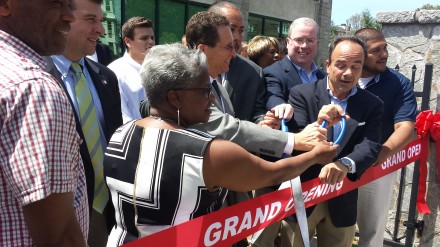 Mayor Joe Ganim's raising money, banging phones, crashing festivals, schmoozing voters all across the state in his Runyonesque run for governor while trying to balance the duties of his elected office, something a Ned Lamont supporter who very well could be a Ganim mayoral opponent next year declares is "double-dipping" receiving a salary during his job hunt, then cashing in his unused vacation days. State Senator Marilyn Moore, by design or not, has emerged as the political antithesis activists are encouraging to challenge Ganim. Will she? is a gigantic question.

Ganim's not looking down the road, he's fully engaged in trying to defeat Democratic-endorsed Lamont in an August primary. If his underdog effort fails he'll pivot back to Plan B, his 2019 mayoral reelection campaign for which he's already banked $200,000 before jumping into the governor's race.
Right now Moore could best be described as a reluctant mayoral recruit. She'll not go out of her way to poke Ganim, but if you ask she'll weigh in as she did with CT Post reporter Brian Lockhart here.
Moore enjoys her independence running outside entrenched party insiders such as Democratic Town Chair Mario Testa. In 2014, she ran as a reformer defeating incumbent Anthony Musto in a primary on her way to a general election victory. Moore deftly leveraged a conflict-of-interest issue Musto had a hand derailing in the state legislature. Both Moore and State House member Jack Hennessy publicly challenged the number of City Council members who were on the public payroll, particularly then-City Council President Tom McCarthy. How can the head of the legislative branch provide a check on the executive branch that controls his paycheck? Musto blocked a legislative fix. It became a key issue for Moore to lance Musto.
Two years later McCarthy himself challenged Moore in a primary and got torched. It sent a message about Moore's public backing. This year Moore did not face a party primary. She's seeking a third term challenged by Republican Rich Deecken. Moore has also shown she can juggle a diverse constituency in the city-suburban district that covers about one third of Bridgeport, all of Trumbull and a piece of Monroe. She's active in the suburbs to the call of specific issues while sharing that a stronger Bridgeport is good for the entire region. Her Bridgeport piece of the district covers the North End, West Side and Black Rock.
Anti-Ganim operatives are pushing Moore to run. Campaigning for mayor from a legislative seat to topple an incumbent is tricky stuff, especially someone of Ganim's retail skills. Bill Finch ran successfully for mayor as an incumbent state senator in 2007, but that was a different animal. Finch was recruited by party regulars, after incumbent John Fabrizi did not seek reelection, to defeat maverick State Rep. Chris Caruso in a mayoral primary.
Moore has lent her name in the cause of trying to elect anti-establishment candidates. She's learning that personal popularity is not always transferable. The candidates she supported in the March Democratic Town Committee races largely lost. Still, the effort helps to build a coalition for a future run.
A lot can change in six months. Moore, for now, must focus on her reelection and then she'll enter a legislative session that runs from January into June. As spring approaches, if she's serious about challenging Ganim, she'll need to assemble campaign pieces and raise money for a grinding citywide run. Not easy to do.
Some of this depends on Ganim's public standing. He will not raise taxes next year for the third straight year. He'll campaign with Steelpointe Harbor going vertical, a new Harding High School open, the factory conversion of Cherry Street Lofts in the West End, the amphitheater project next to the Webster Bank Arena, conversion of a dirty coal plant to natural gas in the South End. Some of these projects started under Finch? Doesn't matter, the incumbent always gets the credit or the blame. What will be the crime situation in the city?
Moore also enjoys a significant leadership position on a bonding subcommittee while screening bills that can send home more dollars to her district. So she may be in a stronger position to help Bridgeport in that role than serving as mayor and the headaches of running Connecticut's largest city.
So a lot can happen, but the Moore watch is on.