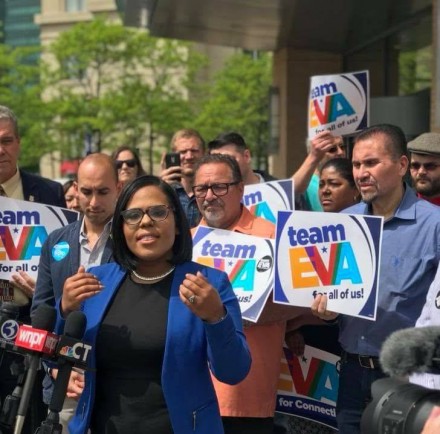 The Democratic ticket of Ned Lamont and Susan Bysiewicz doesn't exactly overwhelm on the candidate charisma scale. Take away Ned's wealth and what do you have? The last time SuBy ran statewide she got clobbered by Chris Murphy. They're only running because higher-profile pols stayed out of it. They're being challenged August 14 by two candidates, Joe Ganim and Eva Bermudez Zimmerman who although not running as a team possess some flourish on the campaign trail. They will fill the first two spots on Line B.

Ganim's baggage is well documented, but his retail skills set him apart from other gubernatorial candidates. Eva, 31, engineers enthusiasm as a late entry into the lieutenant governor's race, backed by political advocates tired of top-of-ticket retreads. Many political operatives say the August 14 Democratic primary will not be a simple top line vote for endorsed candidates, especially in urban areas where Ganim and Eva expect to run strongest. Candidate charisma is addressed in an article by Hearst reporter Kaitlyn Krasselt.
"She's (Bysiewicz) not the backslapper or the kind of charismatic politician that most people are looking for," said Jonathan Wharton, an expert in identity politics at Southern Connecticut State University.

… Wharton said the charisma problem is bigger than Bysiewicz. It's a Connecticut trend.

"Of course, one could also make the same argument for Ned Lamont … really any of the candidates for governor," he said. "One could argue Joe Ganim is the only one that offers any kind of enthusiasm and charisma … It's tough to find someone who has that connectability in Connecticut. We're the land of steady habits. How many times has Mark Boughton been elected? So you have to wonder, is that something that's beyond Susan Bysiewicz. I would argue it's a pattern. I don't think she's an anomaly."
Full story here.