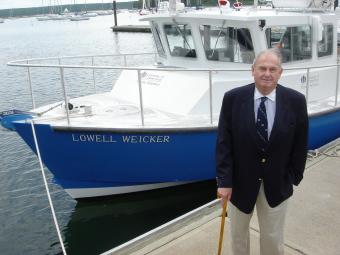 As governor, Lowell Weicker rescued Bridgeport from financial ruin, now he's hoping his endorsement of Mary-Jane Foster adds credibility and financial resources to her mayoral campaign.

"Mary-Jane's life experiences: having been raised by a single mother, working her way through law school, advocating on behalf of victims of domestic violence, running a business, and working in education provides her with the type of perspective that Bridgeport needs," said Weicker in a statement released by the Foster campaign. "I understand how important it is for any city, and especially Bridgeport, to have a leader in the Mayor's office that partners in the private sector, labor, and government can trust. Mary-Jane Foster is a leader we can all trust and is the only person running who can secure the commitments from a diverse group of people to move Bridgeport forward. I enthusiastically endorse her candidacy.
Weicker, during the Joe Ganim mayoral years, relocated Housatonic Community College to Downtown, transferred the Troop G state police barracks from Westport to across the street from Housatonic when the city was experiencing unprecedented violent crime. He removed the ugly blight of Mount Trashmore from the East End. He also infused the city treasury with $10 million with the state purchasing Beardsley zoo and park. His gaming compact with the tribal nation casinos also distributed more than $100 million in slot money to the city the past 20-plus years. Weicker also ordered his appointed state commissioners to take an active interest in the state's largest city.
"I am so honored to gain the support of Governor Weicker," said Foster. "His commitment to Bridgeport saved our city, his principled independence is too often lacking in today's politics, and his dedication to standing up to corruption is what we should strive for from all our public officials. I pledge I will do everything I can as Mayor of Bridgeport to follow his example in providing independent and honest leadership."
Foster is embroiled in a high-profile general election battle with Democratic nominee Joe Ganim who defeated incumbent Bill Finch in a September primary. Foster will appear on the ballot as a petitioning candidate.
Weicker earned his political stripes as a maverick Republican government reformer who served 18 years in the United States Senate before his defeat by Democrat Joe Lieberman in 1988. Two years later Weicker formed his own independent party and was elected governor, serving one four-year term. He decided against reelection after implementing a personal income tax for the state.
In a CT Post interview Weicker said "The idea of electing a real felon, that's not Bridgeport."