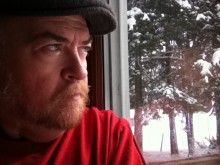 Tom Lombard is never bashful about stating a position and he doesn't disappoint in a candidate piece he shares. OIB invites all candidates running in the Feb. 22 special election to present their rationale for filling the legislative seat vacated by Chris Caruso. Connecticut's 126th State Assembly District includes portions of the North and Upper East Side. Charlie Stallworth and James Keyser have been endorsed by the Democratic and Republican parties respectively. Lombard, Mark Trojanowski, Carlos Silva, Bob Keeley and Verna Kearney are running as petitioning candidates. See Lombard's viewpoint below:
My opponents need to realize the enormity of this responsibility. We can't use Chain Gangs to cleanup Bridgeport. We don't need "Gateways" that the suburbs don't want to enter. On Feb. 17 Gov. Malloy will release the State budget that we will all be forced to live with for the next 2 years. We will need to all fight for scraps for the city, along with 168 other communities. Also we will need to prepare for the second half of the biennial budget 2 years from now. These will be the most severe cuts in CT history.


New laws take time, budget cuts are quicker. We need to protect our programs. We need to protect all Health and Family services. Seniors on fixed incomes deserve to have security in their golden years.

The voters need to realize that this isn't a popularity contest. The Battle lies beyond the fog. We have to have someone in Hartford with that mentality. Gov. Malloy has said we are facing a $3.7 billion deficit. I assure you he will balance the Budget on the backs of taxpayers. All of our representatives must work together on major issues. We cannot waste our time on small-scale issues like higher auto insurance rates in Bpt. We have bigger fish to fry. If that's the best they can come up with, then go back to playing solitaire.

On Feb.17 the budget will be unveiled. On Feb. 18 a shockwave will be reverberating across CT. On Feb. 22 I hope that I am there for you. I would look forward to be working with Malloy. He did a great job revitalizing Stamford, increasing the population by 14,000 people. He did this by increasing hope and opportunities. Pray that we can all do this for Bridgeport.

I would first propose forming a bipartisan coalition of legislators and the business community. Then establish a realistic plan to induce big and small businesses to take another look at developing here. Example: General Electric Corp. Their headquarters are located in Fairfield CT. They have a factory on Boston Ave. They could demolish or refurbish—News Flash—GE announces new Plant investments creating over 1,300 jobs. They will be located in Louisville Kentucky, Bloomington, Indiana, Decatur Alabama, & Selmer, Tennessee. Over $1 Billion investments. Why couldn't we have those jobs?

The reason that I am running is simple. My history, my experience is precisely what we need in Hartford. We can't afford to have any more representatives playing solitaire, or reading E-Mails, on their laptops.

WAKE UP! Work or Quit!

In closing I need to leave you with a final thought. Bridgeport, there is a light at the end of the Tunnel. Unfortunately, it's a runaway Train. Vote Lombard–Vote Hope.