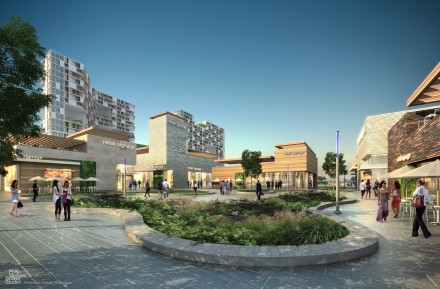 In a commentary that first appeared in the Connecticut Post the principals of the Miami-based RCI Group Robert Christoph Sr. and Robert Christoph Jr. highlight redevelopment progress on the East Side.
The Steelpointe Harbor has always been focused on creating employment and economic opportunities while at the same time invigorating and developing Bridgeport's waterfront. After years of hard work and significant capital outlays, this development has finally achieved vitality and momentum.

This momentum has been most recently evidenced by the exciting announcement that took place last week: the Cinepolis USA, a 50,000-square-foot luxury cinema complex, is coming to the Bridgeport waterfront.

It will be joining Bass Pro Shops, Starbucks, Chipotle, T-Mobile, and other top-notch companies that have yet to be announced, further creating jobs and in fact, further invigorating the waterfront.

This is especially great news for the development because it's been a long and sometimes bumpy ride.

After being selected as lead developer in 2001–having developed waterfront properties in Miami Beach, Key West, Boston, and other waterfronts on the Eastern Seaboard–we were excited to move forward with developing this beautiful piece of property on the Long Island Sound.

Unfortunately, we hit some roadblocks early on.

Political scandals in both Bridgeport and at the state level in Connecticut, combined with an economic recession across the country, delayed our ability to move forward with the project in the early years.

However, in 2003, John Fabrizi helped jumpstart the project by getting a hold of the city's finances, and regaining confidence from the state.

This was necessary to unlock public funds for aiding development of the site, and in turn enhancing our ability to entice private investment.

Recently, with a stronger economy, and with Mayor Finch's administration at the helm, the project has taken on further momentum.

The project has been assisted significantly by Mayor Finch's administration, especially in securing federal and state funding.

Mayor Finch's real estate development background gave him the understanding that this project needed to be done in phases and could not be completed all at once. As a result, he and his administration assisted in pursuing this as a phased approach as part of the development criteria for Steelpointe Harbor.

Once complete, it will be a 2 million-square-foot regional waterfront urban destination.

Spanning 82 acres, Steelpointe Harbor will feature more than 750,000 square feet of retail, restaurants and entertainment, a 12-screen premium theater, two hotels, 1,100 mid-and-high rise residential units, 30,000 square feet of office and a 200-slip, full service, deep water marina.

It will also be the first time the peninsula will have public access for Bridgeport residents in 100 years.

We're designing a destination that will entice kids and families from across the city and state to come enjoy and spend time on the property.

Today, due to the strong support of local, state, and federal officials–as well as the community as a whole–Steelpointe Harbor is becoming a premier place to invest in the Northeast region.

We believe Bridgeport truly is getting better every day–in part due to our Steelpointe Harbor waterfront development–and that there are even better days ahead.

We're proud to be a part of the city of Bridgeport and its comeback story.