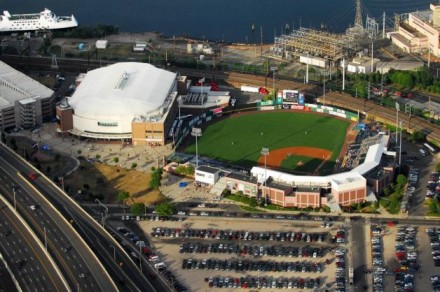 It always intrigues when the state's largest city serves as a convenient foil for political demagoguery, especially from one who seeks the office of mayor in New Haven. State Rep. Gary Holder-Winfield, speaking at a mayoral forum in New Haven on Saturday, said the following according to the New Haven Independent when candidates were asked about the city's relationship with Yale.
… It's better now, but people still see Yale as a problem. It's a partner. A good partner. It's part of the reason that this city doesn't look like Bridgeport. That said, the mayor has to stand up and say what's real. They are a partner. If there are issues, they are because the mayor hasn't figured out what to do with the parts of the city that Yale doesn't own.

What's Holder-Winfield referencing in Bridgeport that doesn't look so good? The ballpark at Harbor Yard, the Webster Bank Arena, Captain's Cove Seaport, Discovery Museum, Connecticut's Beardsley Zoo, Beardsley Park, waterfront parks, St. Mary's By The Sea, Seaside Park, the city's eclectic neighborhoods, housing stock, growing arts community, Downtown Cabaret Theatre, Bijou Theatre, Klein Memorial, Housatonic Community College, University of Bridgeport, Bridgeport Hospital, St. Vincent's Medical Center, People's United Bank headquarters? Is he talking about how the people look?

Holder-Winfield is supposed to build coalitions to enhance his city, whether as a legislator or a potential mayor. So the next time he needs Bridgeport's votes in the legislature to pass one of his bills, or more money for his city as mayor (if he gets there), maybe Bridgeport legislators will look at him and say: Sorry, we don't like the way you look at us.