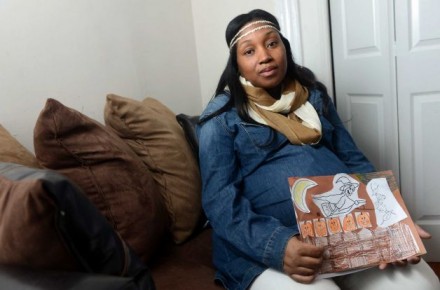 UPDATE: Sauda Baraka, one of four Board of Education members Wednesday night who voted to rescue Tisdale School principal Carmen Perez Dickson from termination for dragging children through hallways, was represented by Dickson's attorney when Baraka became a plaintiff challenging the state's takeover of city schools in 2011.
School board members Ken Moales and Maria Pereira had recused themselves from the Dickson case as a result of conversations they had with Dickson regarding accusations she used excessive force against children. Baraka chose to vote on the Dickson disciplinary matter even though Dickson's lawyer Josephine Miller also had represented her involving the Connecticut Supreme Court reseating the elected Board of Education after a majority of members asked for state intervention.

Superintendent of Schools Paul Vallas who urged Dickson's termination was "shocked and appalled that anyone who claims to care about the safety of students could possibly reach this decision." School Board Member Tom Mulligan said, "Using excessive force on small children is unreasonable. Each and every one of us on the board witnessed (Dickson) on video, drag a small child down a hallway pulling aggressively at the neck and arm in the process." Of the four school board members who voted against termination, only Baraka is up for reelection Tuesday.
Baraka, represented by Miller, had opposed the return of Mulligan and Leticia Colon to the school board to fill out their terms. Both Mulligan and Colon voted to terminate Dickson.
"Parents are disgusted that this principal is receiving what they call a slap on the wrist for years of using excessive force against children," says Sandra Kase, the school district's chief administrative officer. "I honestly think it declares open season on misconduct against children in Bridgeport public schools. If we can't hold principals accountable for their misconduct how can we hold staff accountable."
From Linda Conner Lambeck, CT Post:
The embattled Tisdale School principal, caught on security video cameras on three occasions dragging kindergarten children down the hallway was given a six months suspension without pay, followed by a reassignment to an administrative position other than principal of Tisdale School. The 4-to-3 vote came Wednesday, the deadline for a decision to be reached, and minutes from midnight. Board members Sauda Baraka, Bobby Simmons, John Bagley and Jacqueline Kelleher voted in the majority. Thomas Mulligan, Hernan Illingworth and Leticia Colon voted in opposition.
CT Post Updated articke here.slat
Statement from Republican Town Chairman John Slater:
By temporarily suspending without pay and voting against the full termination of Carmen Perez Dickson, the majority of the current Board of Education has once again displayed its refusal to do what is right for Bridgeport's kids. Dickson was caught on security video on three separate occasions dragging kindergarten children down a hallway aggressively by the neck and arm. Sauda Baraka, who is running for re-election this coming Tuesday, November 5th, stated that "there were inconsistencies in the way polices were applied and incidents reported that made the case inconclusive. The kids in the Bridgeport Public School system deserve better and, at a minimum, a guarantee of safety. Sauda Baraka has once again put the interest of her own political gain and allies against the safety of Bridgeport's kids and should be voted out of her Board of Education seat this Tuesday November 5th. It is the intention of the Republican Board of Education candidates to do away with the political games and always put the kids first.
Statement from Republican school board candidate Joe Larcheveque:
It is generally inappropriate to address disciplinary matters without having access to the evidence and testimony. However in the public sections of the hearings that dragged on for months, verbal descriptions of the video viewed by the Board members were fairly descriptive of the actions taken by the principal. Now, recently published comments by Board member Tom Mulligan seem to clarify further what the video contained; stating that every Board member witnessed the use of excessive force on the video. If that is true, how could the majority of Board members reach a decision that falls so short of making sure similar actions by this individual never happen again?

Principals and teachers owe a clear duty to their students. Our precious children must be kept safe and secure. School staff must be able to anticipate foreseeable dangers and take proper steps to assure the safety of students and staff. In the rarest of times when non-physical interventions do not work, appropriate methods of restraint must be used that do not neglect or harm the child. Based on the public reporting of the known facts of this case, that included admitted concerns from Board members who voted in the majority, it appears the physical disciplinary tactics utilized were excessive and harmful.

The fact that our Board of Education would allow this principal back to working with our children after only a suspension is outrageous. The parents, students and the community should have the basic expectation that the Board will take actions to protect our children at all times. When the physical safety of our kids is at stake, we should expect more than the usual rancor and dysfunction. Clearly that was not the case here. Hopefully things will change after Election Day.
Statement from Republican school board candidate John Weldon:
Over the past week, I received a flyer in the mail encouraging me (her opponent) to vote for Sauda Baraka. The flyer has a picture of Ms. Baraka, with her arm around her son, next to her quoted statement: "For the first time in years, I see light at the end of the tunnel for Bridgeport schools. This November 5th we can bring a team to the Board of Education who will always demand accountability, based on what's best for all our children."

Is voting to suspend, instead of terminating, a physically abusive teacher her way of "demanding accountability, based on what's best for all our children" of Ms. Dickson? Is keeping a child abuser on the payroll of our school system Ms. Baraka's way of bringing our school system into the "light at the end of the tunnel?"

I've said it before, but I'll say it again–Ms. Baraka, and the rest of the Working Families and Democratic BOE candidates are not a "team," as they continuously refer to themselves. Rather, they are a political bloc seeking to gain control of the Board of Education. This faction says the Board is controlled by the Mayor and they seek to wrest that control away from him–but they neglect the second half of that sentence, which is: and give all of that control to Andre Baker, Sauda Baraka, Howard Gardner, Dave Hennessey and Eric Stewart-Alicea.

The phrase "absolute power corrupts absolutely" holds true. It stifles progress and censors free dialect and the sharing of ideas–it doesn't matter if that control rests with the Mayor or with the five-person bloc, who make no bones about their intention to completely take control of the Board–and as the actions of Ms. Baraka regarding Ms. Dickson illustrate the dangerous, self-serving, anti-child decision-making this power bloc will exhibit.