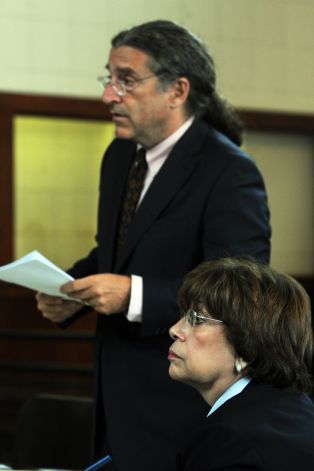 UPDATE: Supporters of Superintendent of Schools Paul Vallas are organizing a rally for tonight (Monday) at 6 at the Cathedral of the Holy Spirit, 729 Union Avenue, hosted by Rev. Ken Moales, president of the Board of Education, according to Joshua Thompson, director for Education and Youth Policy-Deputy CAO for Education, Office of Mayor Bill Finch.

The battles continue. The war is far from over. The latest round to determine the future of the Board of Education goes to retired Superior Court Judge Carmen Lopez, aided by the legal mind of stormin' Norm Pattis, who persuaded Superior Court Judge Barbara Bellis that Paul Vallas lacked the proper legal qualifications to serve as chief of city schools. Next step comes today when the city files an official appeal. According to lawyers familiar with Connecticut civil procedure, enforcement of a judgment is generally suspended (or in legal terms "stayed") pending decision on appeal. The plaintiff can move to terminate the stay, but that is the exception when it comes to preserving the rights of a party. (OIB lawyers, feel free to weigh in.) So Vallas, for now, remains on the job.
We are about three weeks away from political party conventions to endorse school board candidates. Five seats are available, occupied by Democrats Tom Mulligan, Leticia Colon, Bobby Simmons and Connecticut Working Families Party representatives Maria Pereira and Sauda Baraka. Word is Simmons, who generally votes in a bloc with the WFP, will pack it in. Word is Mulligan and Colon want to pack it in but the party so far has not found acceptable replacements. And in fact very few candidates are stepping up to run for a volunteer citywide job to set policy for the largest school system in the state and oversee the single largest piece of the city budget.
City Councilman Andre Baker, representing the city's East End, is considering a run for school board, but can he–a critic of Mayor Bill Finch–secure the endorsement from the 90-member Democratic Town Committee? If not, he'd need to hustle roughly 2000 signatures of registered Democrats, approved by election officials, to place his name on the ballot for a September Democratic primary.
The hostility, legal and otherwise, for control of the board has had its impact on potential candidates. Not many want to jump into that pot of political blood. This school board election cycle is shaping up as another red meat battle, similar to the ballot question last November when voters rejected a mayoral-appointed school board, with expenditures flooding in from political parties and independent education organizations.
The Vallas court decision will certainly find its way into this election. It's also an opportunity for Republicans to win back two of the three minority-party school board slots they've lost to the WFP since 2009.