UPDATE: Withdrawn from agenda:
**PLEASE NOTE: ITEM# 11-12 REMOVED**

11-12 Proposed Amendment to the 2008 Master Plan of Conservation & Development Chapter 14 – Future Land Use Plan.
State Rep. Jack Hennessy wants to find out if Democratic Town Chair Mario Testa's influence with members of the all-Democratic City Council is 100 percent full-proof. On Wednesday at 6 p.m. the City Council's Committee on Economic and Community Development and Environment is scheduled to meet at 6 p.m. in the Wheeler Room of City Hall to consider a proposed change to the city's master plan of development that could allow Testa to expand his restaurant in a residential section of the North End. Hennessy's leading a neighborhood effort to block the town chairman's proposal. "This was a quiet neighborhood but Mario Testa is not a good neighbor," Hennessy writes in a commentary he submitted to OIB.

Testa has been shot down in the past by the city's Planning and Zoning Commission in his quest for expansion, but his latest effort provides a new twist involving the City Council as well as land use legal expert Chuck Willinger representing the restaurant on the issue before the council and city zoners. The political leader's restaurant is the epicenter for Democratic politics and enjoys a strong following. Some neighbors maintain the traffic and potential expansion is too much for their residential taste. Hennessy's commentary follows: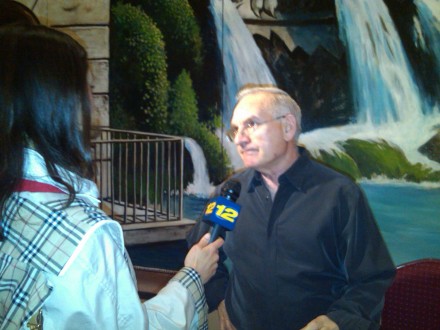 Part of the advertisement states, "Nestled in a quiet neighborhood of Bridgeport, Connecticut, Testo's Italian Family Restaurant is the pinnacle of succulent cuisine, quality service, and truly elegant atmosphere …"

Ever since he bought the property and tore down the sleepy Three Doors Restaurant to put up his mausoleum, Mario Testa has been a pain in the neck. He has blatantly ignored zoning rules, incurred cease-and-desist orders, and every year has forced the neighbors to come to city hall and fight to prevent him from having the zone designation of his property changed from residential to commercial. If that were to happen, anything could spring up there such as a Scared Heart University high-rise dorm.

We have picketed his establishment for the last two years to bring attention to his callous disregard for the neighborhood and the potential to destroy the neighborhood. And we have been successful in preventing the land use boards from giving in to his requests.

One year ago North End neighbors protested a restaurant zoning application for expansion. Zoners rejected it.

The history

The property has had a non-conforming use since the 1930's and has been granted an exception to allow for a tavern. It has kept its Residence A Zone despite the fact it has had a commercial use all these years to protect the neighborhood from it turning into something that would be inappropriate to the residential character of the neighborhood. When Testa bought the property, he was aware that it was residentially zoned with a waiver to allow for a restaurant. But he has been coming before the land use boards each year since he moved in in 2006 petitioning to get it changed to commercial. And each year, we the neighbors, have come out in force and have been able to prevent it.

What prevents the land use boards from granting his zone change request is that to do so would be a classic case of detrimental spot zoning. That's against the Master plan of development. The same thing happened in another neighborhood in the North End at Wentworth Street. We took it to court and won. And we promised to sue if Testa got his property zone changed. The Master plan of development has protected us.

Until now.

This Wednesday evening, February 20th, 2013 at 6:00 p.m. at City Hall, 45 Lyon Terrace, in the Wheeler Room, Side B, the Committee on Economic and Community Development (ECD) and Environment will hold a meeting.

The third item on their agenda is:

11-12 Proposed Amendment to the 2008 Master Plan of Conservation & Development Chapter 14 – Future Land Use Plan.

This committee will be discussing changing the map of the Master plan so Testa can get his zone change. If and when the city council changes the map designating the area where Testo's Restaurant is from residential to mixed use, the Planning and Zoning Board can change the zone from Residence A Zone to OR-G Zone and our legal protection will be removed by the city council's action.

This is an easy thing to do if you are the Democratic Town Committee Chairman and undisputed boss of the "Bridgeport Machine." This is an easy thing to do if three of the five city council members of the ECD sub-committee are city employees whose job security depends upon them doing the boss's dirty work.

Do our city council members give us a call and ask us what we think, or do they keep quiet and hope nobody notices? Do they vote no to protect the neighborhood and uphold the Master Plan? Of course not. Not when they are on the payroll. This is Bridgeport–Testa is using his power to change the Master Plan to get what he wants.

I am asking people to come to the Wednesday Bridgeport City Hall meeting to witness this. We will not be allowed to speak, but we can be there and witness what's going on and let the city council members know we are watching.

This zone change application is also scheduled to be heard February 25th before the Planning & Zoning Commission. We are planning to show up and protest and provide testimony against the proposed zone change. I ask for your support.

I also ask that you contact city council president Thomas C. McCarthy (city employee), and the members of the Economic sub-committee and ask them to deny Testa the change to the map of conservation and development.
Members of the council committee are Lydia Martinez, Evette Brantley, Warren Blunt, Michelle Lyons, Marty McCarthy and Jack Banta.
Their contact info can be found here.