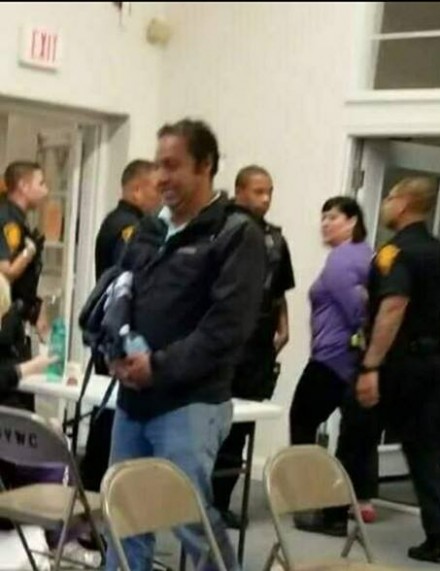 Board of Education member Maria Pereira was arrested Tuesday night following a heated altercation at a residents meeting of Success Village to remove a co-op board member politically aligned with Pereira. She was charged with criminal trespass in the first degree, breach of peace, interfering with an officer and escorted out in cuffs by police. They are misdemeanors. 
A special meeting of Success Village residents took place in an attempt to remove Samia Suliman, vice president of the Success Village Co-op, and others from the board. Pereira does not reside in the co-op but Success Village, off Boston Avenue, is a treasure trove of votes for politicians working the JFK voting precinct. In 2017, when she was Democratic District Leader, Pereira ran Suliman for City Council in the Upper East Side 138th District. Suliman came up short in a primary.
According to the police report cops responded to a disturbance with about 80 people in attendance. Police observed a "chaotic scene" and called for backup. Multiple officers arrived at the scene. Police were advised that only residents of Success Village and elected board members and attorneys may be present during the meeting.
Police ordered Pereira to leave the building "numerous times."
"To ensure Pereira would leave the building without any further problems" Police Officer Chealsey Lancia walked behind her until she exited the building. "Moments later, Pereira turned around in a fast manner while swinging her arms in an aggressive nature, almost striking (the officer) in the face with a black object. Due to Pereira entering (the officer's) personal space responding officer removed from her hand a black object, fearing it was a weapon. It was later determined the black object Pereira was holding in her hand was her cellphone."
Pereira was handcuffed and transported to the police station where she was processed.
The meeting Tuesday night was scheduled on an application to remove board members Suliman, Gamaliel Samayoa, Kate Frank, Lisa Moragne and Thieu Tran based on "abuse of process, violation of laws, disrespect of members, self-dealing, malfeasance and outright negligence in the governance of Success Village Apartments," according to a letter noticed to apartment residents.
Moragne was also charged with interfering with an officer and breach of peace.
Pereira is a passionate political warrior at odds with the political establishment. She resides in the Hooker School precinct where she enjoys a base of support. She won a school board seat in 2009 running on the Connecticut Working Families Party line. After serving four years she returned to the board in 2015 running on Joe Ganim's mayoral line whom she supported. They had a falling-out shortly after over school board issues. In 2016, Pereira ran a slate that captured all nine seats in a primary for Democratic Town Committee in her district. In March of this year, her political opponents returned the favor winning all nine seats.
In 2016, she fell short in a primary challenge of State House member Charlie Stallworth.
Pereira's school board seat is up in 2019.