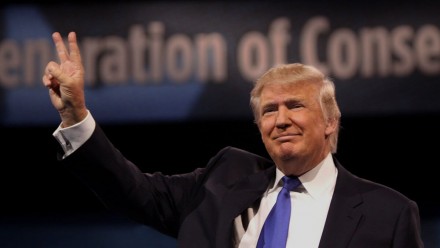 Some people wonder based on his cretinous campaign if Donald Trump's involved in some sort of conspiracy to elect Hillary Clinton president. Trump, who has compared himself to P.T. Barnum, brings his campaign circus to the Pitt Center on the campus of Sacred Heart University around 7:30 p.m. on Saturday. Campus proper is located in Fairfield, but part of the university spills across the city line which means Bridgeport Police at the request of the Secret Service will lend a security hand to its neighbor, but not nearly the amount of security detail for Trump's visit to the Klein Memorial Auditorium in April that cost city taxpayers about $37,000. For tickets to the rally see here.

Fairfield will absorb most of the cost for this visit. Trump is likely to fly into the city-owned Sikorsky Memorial Airport so a small Bridgeport detail will be assigned there if that happens, according to Police Chief AJ Perez. A few other officers will be assigned to assist with SHU security. The chief expects the security costs to be minimal.
Trump's had quite a few weeks on the campaign trail. Many GOP political operatives worry Trump will be a drain on the under ticket.
Republican Congressional candidate John Shaban who's challenging incumbent Jim Himes in Connecticut's 4th District is having trouble raising money from traditional donors because Trump has become a radioactive lightning rod free-falling in latest polls.
Trump's accusation about President Obama forming ISIS hasn't helped. In retreat, as he often does, Trump says it was sarcasm. It's usually sarcasm or blame the media.
For some Republicans the Libertarian Party ticket of Gary Johnson and William Weld is looking pretty good.
Connecticut Democrats have pounced on Trump's visit.
"From inciting violence against his political opponent, to insulting a Gold Star family, to mocking a reporter with a physical disability, Trump has shown time and time again that he is temperamentally unfit and lacks the judgment to serve as commander-in-chief," says Leigh Appleby, a spokesperson for the Connecticut Democratic Party.