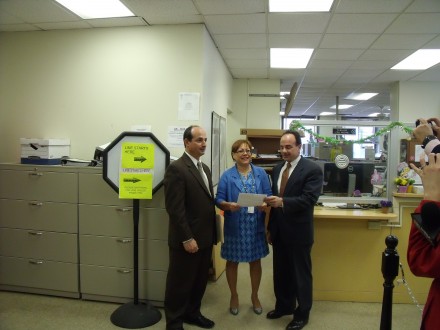 Alma Maya earned her political stripes courting an independent streak going back to her days as a disciple of Bridgeport social irritant Cesar Batalla, an establishment fighter in the cause of school funding, busing, voter rights and political power. Maya was elected Town Clerk in 2007 running with Bill Finch who was elected mayor and again in 2011. This cycle she has decided to break from Finch, throwing her support to Joe Ganim, seeking redemption from voters, although "we have had our differences in the past."

The crazy world of city politics has validated its unique reputation in recent weeks. The retired FBI agent who put Ganim in the joint is now supporting his comeback. So too, a whole bunch of city police officers.
Finch and Maya were never the best of buds, but they generally found a way to co-exist. Maya was a vocal critic of the mayor's proposal 18 months ago to place a planned indoor shooting range in the revamped West End police precinct near Cesar Batalla School. Following neighborhood opposition, organized with the help of retired Superior Court Judge Carmen Lopez, the mayor ordered a new location.
Maya has never been a Democratic Party suck-up, and she will be the first to admit it has cost her economically in the world of political patronage. Maya and Finch met recently about working together this campaign cycle. She also spoke to Democratic Town Chair Mario Testa. There was no meeting of the minds. Maya reviewed her options: stay involved or sit it out. She's decided to support Ganim, although she says without finality about seeking her reelection.
Maya issued this statement:
I am supporting Joe Ganim for Mayor because after strong consideration, I believe he is the Mayor that Bridgeport needs at this particular time.

I trust him when he says he has learned his lesson. He paid for his mistakes. I think that he is more qualified now than he was in the past. He has matured. He is wiser.

I have seen with my own eyes that he has made it a point to listen to others and be inclusive. His campaign is an open tent.

I worked for several years with ex offenders. I honestly feel that we cannot afford to prohibit anyone from contributing to the community with their particular skills. Joe Ganim is a politician. He knows politics. He is ready to use his talents and skills in our best interest. He deserves another chance to be Mayor.

I do not believe that he will let us, or himself, down again.

Although we have had our differences in the past, today is a new day. We can work together. We both want a better Bridgeport. We both want a city where we can all live peacefully and with prosperity. We want to be "Bridgeport Proud."

Joe Ganim is up for the challenge. He has faced up to his past and is poised to confront the future.

He will win.