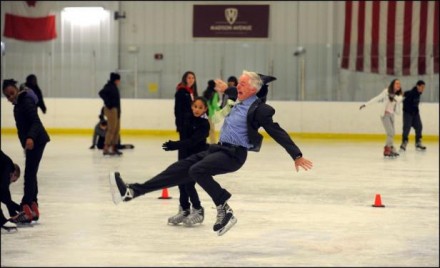 With limited options in desperation mode, Mayor Bill Finch Monday evening met with Republican candidate for mayor Enrique Torres urging him to vacate his line so that Finch could run on the GOP line in the general election against Democratic nominee Joe Ganim. Torres rejected Finch's offer that included several good government initiatives that Torres wants such as no city employees on the city council and minority party representation that Finch has not publicly supported in his eight years as mayor.

"Finch made concessions that are relevant to talk about," says Torres. "Minority party representation, no city employees on the City Council, all of these things they agreed to. What worries me is that they did not do this in office. All of a sudden they found Jesus and good government. I don't think any of this would work anyway. I am quite certain I could not live with myself if I ever did agree to it. I told them I could not do this deal. I left the door open if they want to help me defeat Ganim I am amenable."
The Bridgeport City Charter prohibits city employees from serving on the City Council, but a dubious loophole in state law cited by City Attorney Mark Anastasi has given mayors cover to protect political sacred cows who receive a city paycheck while serving on the city's legislative and budgetmaking authority. Finch has not enforced the city charter largely to protect City Council President Tom McCarthy, deputy director of Labor Relations who serves at the pleasure of the mayor. All other major party mayoral candidates, including Ganim, say they will uphold the charter and not allow city employees councilors.
And in another ironic twist to this bizarre election season, it was McCarthy's public declaration to the CT Post that Finch petitioning onto the ballot as an individual would show weakness that caused Finch operatives to surreptitiously create a minor party as a backup to a primary loss. How does the mayor look now? Rather than Finch announcing publicly this is the single most important election in city history and wanting every single possible voter participating in the process, he now has a political case of Keystone Cops. Both Joe Ganim and Mary-Jane Foster petitioned onto the general election ballot. Ganim will not have an individual petitioning ballot spot by virtue of being the Democratic nominee. Foster still has the option to run in November.
Meanwhile, Charlie Coviello, mayoral candidate of the New Movement Party, says he has not heard directly from Finch but even if he does he will not cede his seat to the mayor. "Finch has lied to me," says Coviello. "You lie once, you've lost your word. I keep my word in politics."
On Monday a spokesman for the Connecticut Secretary of the State's Office announced that a minor party created on behalf of Finch if he failed to win the primary did not qualify for a ballot spot due to a paperwork snafu. It has left Finch and political operatives scrambling to remain relevant in the general election. Finch will challenge the Job Creation Party ballot spot in court, but several legal analysts doubt it will hold up based on the clarity of law that requires notification of endorsed candidates to be submitted no later that September 2.
From state statute:
Except as otherwise provided in this subsection, the Secretary of the State shall approve every nominating petition which contains sufficient signatures counted and certified on approved pages by the town clerks. In the case of a candidate who petitions under a reserved party designation the Secretary shall approve the petition only if it meets the signature requirement and if a statement endorsing such candidate is filed with the Secretary by the party designation committee not later than four o'clock p.m. on the sixty-second day before the election. In the case of a candidate who petitions under a party designation which is the same as the name of a minor party the Secretary shall approve the petition only if it meets the signature requirement and if a statement endorsing such candidate is filed in the office of the Secretary by the chairman or secretary of such minor party not later than four o'clock p.m. on the sixty-second day before the election. No candidate shall be qualified to appear on any ballot by nominating petition unless the candidate's petition is approved by the Secretary pursuant to this subsection.
(c) The Secretary of the State may approve a nominating petition received under section 9-453k at any time except such approval shall be withdrawn if sufficient signatures are withdrawn under section 9-453h.
Cite as Conn. Gen. Stat. § 9-453o
Finch statement today:
"We're confident that the Job Creation Party line will appear on the November ballot. This election is too important for Bridgeport and its future to be decided by red tape in the Secretary of State's Office. We're taking this issue to court, and we're confident that this matter will receive a fair and just hearing."
Statement from Mary-Jane Foster supporter Tom Swan, head of the Connecticut Citizens Action Group:
"I realize that the Pope is visiting, but this lawsuit is nothing more than Bill Finch throwing more Hail Marys than one recites doing a rosary to try to cling to power. He needs to realize that voters like politicians who argue that they are exempt from the rules maybe even less than those that steal from them and withdraw this lawsuit–it is embarrassing."
Petitioning candidates cannot give up their ballot placement to an individual. It must come from a candidate with a party designation.
Finch could wage a race as a write-in candidate, but that is a super high mountain to climb for reelection.