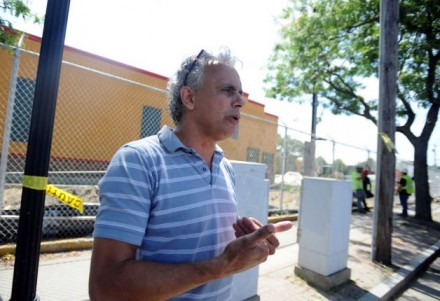 From Frank Juliano, CT Post:
A group of literal tree huggers attempted to spare the leafy canopy shading Fairfield Avenue, eventually drawing three mayoral candidates, seven police officers, two carloads of city officials and the developer of a Popeye's restaurant to the scene.

Enrique Torres, a city councilman representing the Black Rock neighborhood and the Republican candidate for mayor threatened to chain himself to one of the trees, while other neighbors vowed to block the chain saws with their bodies.

Rahman Hashimi attempted to soothe the residents, promising to replace the seven trees coming down with nine, in a landscaped area on the restaurant property, but ended up negotiating with Torres and two other mayoral candidates, Democrats Joe Ganim and Mary-Jane Foster.
Full story here.