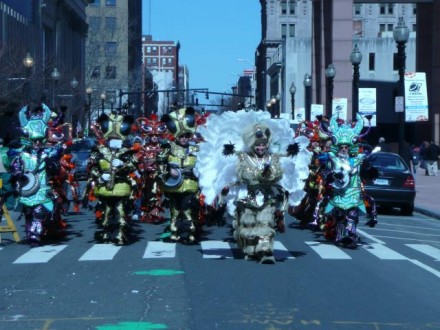 It took an Italian-American Mayor Lenny Paoletta to float the city's first St. Patrick's Day Parade, but 30 years later the parade has taken on a celebration far beyond Lenny's vision. You gotta love Lenny, now in his late 70s. He's the only mayor I know who could Irish jig while sipping Sambuca. The parade kicks off Friday at noon. Will anyone turn the Pequonnock River green? What, you saying it's been green all along since the General Electric contaminants? Well that shouldn't stop us from a community celebration. If you're around downtown check it out.

The parade begins at 12 noon at the corner of Broad Street and Frontage Road. The route will take the parade north on Broad Street, east on Fairfield Avenue and South on Main Street past the reviewing stand at Main Street and Cesar Batalla Way. About a dozen floats, several large balloons, marching bands from high schools throughout the region, pipe bands from across the state and scores of schoolchildren are expected at this year's parade.

Richard W. and Deborah L. Owens, of Stratford, will serve as co-Grand Marshals. Click here to read about this year's co-Grand Marshals.

Schedule of Parade Day Events:

8 a.m.: Mass at Saint Augustine Cathedral

9:15 a.m.: Flag raising at City Hall with The Honorable Bill Finch, Mayor of Bridgeport

10 a.m.: Grand Marshal's Breakfast, Grand Ballroom, Bridgeport Holiday Inn. With performances by The Sheeaun Academy of Irish Dance

11 a.m.: Line up at Harbor Yard

12 p.m.: Parade Kick-Off with 2012 co-Grand Marshals, Deborah and Richard Owens

1 p.m.: Grand Marshal's Luncheon & Awards Ceremony, Grand Ballroom, Bridgeport Holiday Inn. With performances by The Fairfield Gaelic Pipe and Drum Band, The Lenihan School of Dance and the Mummer's John's Uptown String Band.