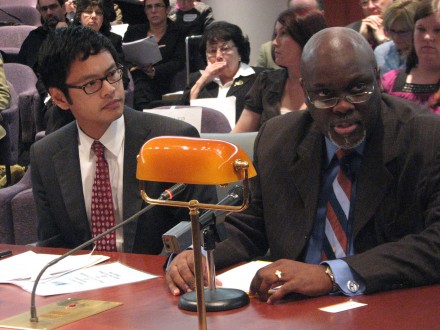 State Rep. Charlie Stallworth, a city pastor, testified before the Judiciary Committee in support of abolishing Connecticut's death penalty. From Stallworth:
Rep. Charlie Stallworth (D-Bridgeport) testified in front of the legislature's Judiciary Committee in favor of Senate Bill #280 that seeks to replace the death penalty for capital crimes with life in prison without the possibility of parole.

"There have been many cases where inmates put to death have been exonerated after the fact, and across the country 140 innocent persons have been freed from death row," Rep. Stallworth said. "Studies show the manner in which the death penalty is applied is racially biased with a minority being 6 times more likely to receive the death penalty for crimes committed against whites."


The bill seeks to replace the death penalty with a penalty of life imprisonment without the possibility of release for certain murders committed on or after the effective date passage. The bill is currently awaiting a vote in the Judiciary Committee.

"I have no doubt that generations to come will look back at us and question how we could condone a punishment so unfairly handed out," Rep. Stallworth added.

Stallworth represents the 126th district in Bridgeport; he serves on the Higher Education, Finance and Public Health Committees.