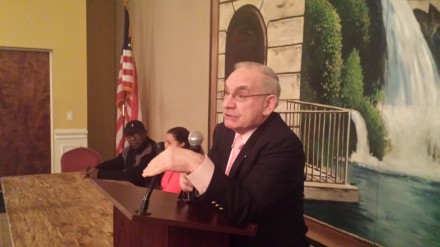 One of the pleasures–some would call it power–of serving as Democratic town chair is discretion to select the date of the party endorsement for respective candidates. "Selective" is a key word for Mario Testa who has a history of choosing a late endorsement date to handcuff potential pain-in-the ass opponents from securing petition signatures to force a primary. Then there's the Mario who chooses an early date, as was the case two years ago, to provide Joe Ganim more time to collect signatures to force a primary against incumbent Mayor Bill Finch.

Joe, turns out, didn't need the extra time, he had a cavalry of supporters who turned around the sigs in less than a week. Others don't command that kind of force and it's instructive regarding three school board challengers, JoAnn Kennedy, Helen Losak and Eric Stewart-Alicea, planning a September 12 primary against party-endorsed Hernan Illingworth, Jessica Martinez and Chaila Robinson. It won't be easy to collect the necessary signatures.
Each year the state issues an election calendar that includes a one-week window for respective parties to conduct conventions to endorse candidates. Two years ago Mario set the date early allowing petitioning candidates three weeks to collect signatures. He was unhappy with incumbent Finch and wanted Ganim on the ballot. This year he set the date one day prior to the last possible date for an endorsement, limiting the time to secure signatures. Why didn't Mario schedule the endorsement the last possible day? At least two reasons. One, it prevents an opponent from filibustering the meeting until the stroke of midnight, forcing an open primary, something a young city councilman Chris Caruso almost accomplished in 1989 when the endorsement for mayor was scheduled on the last day possible. Two, it provides Mario cover for accusations of wiring convention dates to suit his candidates.
This election cycle, petitioning candidates have until 4 p.m. August 9 to submit signatures to the Registrar's Office, just over two week's time following the endorsement. It's generally not a big deal for City Council candidates hustling doors for district primaries. Citywide candidates, however, must secure 2,245 certified signatures from registered Democrats in Bridgeport. That's no layup for candidates lacking a mighty crew of volunteers. And you need to submit a few hundred more than 2,245 to guard against invalidated signatures.
Mario, of course, rarely declares publicly his signature strategy. Two years ago he announced he set the date early because he had a trip planned to his Italian homeland. At the time Ganim was competitive with Finch for the party endorsement, but Mario wasn't taking any chances. Oh by the way, he also wanted Mary-Jane Foster on the ballot because Ganim operatives believed that her presence sucked votes from Finch, particularly in high turnout Black Rock, her base of support. The decision was prescient. The Foster campaign, according to elections officials, had just enough certified signatures with little room to spare. The extra time provided a ballot spot.
Would Finch have prevailed if Foster was not on the ballot? It's debatable. But one thing is clear, both the Ganim and Finch camps believed she took votes from Finch.
So for citywide candidates and surrogates, the hunt is on for signatures and the clock is ticking.