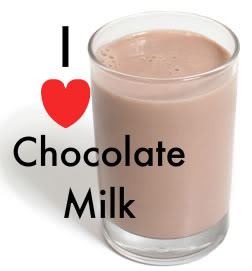 In an OIB post former City Council President Lisa Parziale wrote "How ironic, they vote to ban chocolate milk, but wouldn't vote to ban city employees serving on the City Council. Just saying!" When it comes to political campaigns there's nothing like the simplicity of contrast. He did this but wouldn't do that. Such is the peril of election-year voting for State Senators Anthony Musto and Andres Ayala, both of whom represent Bridgeport and face August 12 Democratic primaries. They voted to ban serving chocolate milk in schools, a bill vetoed last week by Governor Dan Malloy who photo oped his veto message with a swig from a container of chocolate milk.

In response to Parziale's comment, former City Councilman Joel "Speedy" Gonzalez wrote, "Touchdown by Lisa Parziale!"
And poster Mustang Sally wrote, "All that EVIL chocolate milk. IT. MUST. BE. STOPPED!"
And Godiva2011 added, "Yes Sally, oh, the perils of drinking it! As of today in my adult life, I am still drinking it, as is the governor. It began in my childhood. All joking aside, aren't there much more important issues the Senators should be addressing? This is pure folly–ridiculous in my opinion."
Musto and Ayala voting to ban chocolate milk in schools is also instructive of legislators not always understanding what they're voting for or against. In this case it was a bill to lower the sodium intake of school children. How many legislators actually take the time to read the language in the bill and what it represents?
Thus both Musto and Ayala have placed themselves in the position to explain why they both torpedoed a government reform bill to enforce the Bridgeport City Charter prohibiting city employees serving on the City Council, but voted to ban chocolate milk in schools.
The answer is simple: both Musto and Ayala caved to their political pals on the council and special interests that wanted the bill killed.
The Bridgeport City Charter approved by voters is clear: no city employees shall serve on the City Council. The intent is to avoid conflicts of interests such as city employees voting to pad their wages. City Attorney Mark Anastasi has rationalized state law creates a loophole allowing city employees to serve on the council irrespective of state judges ruling that state law cannot be used as a pretext to abandon home rule.
What's the rub? State law correctly bans municipal employees from serving on boards of finance, but Bridgeport's legislative body also serves as the budget authority. A majority in Connecticut's State House, led by Representatives Jack Hennessy and Auden Grogins, support closing that loophole to extend state law to include all municipal entities with budget authority.
In Musto's case, he is supported by City Council President Tom McCarthy who works at the pleasure of the mayor as deputy director of Labor Relations. Just about anywhere else in America that scenario would be illegal, be it state or federal government. Legislative branches are supposed to serve as a check on the executive branch of government.
Can you imagine the head of the federal legislative branch serving at the pleasure of the United States President? Same thing on a state level. Both are illegal.
But in Bridgeport, irrespective of what the City Charter states, it's okay. Pass the chocolate milk.