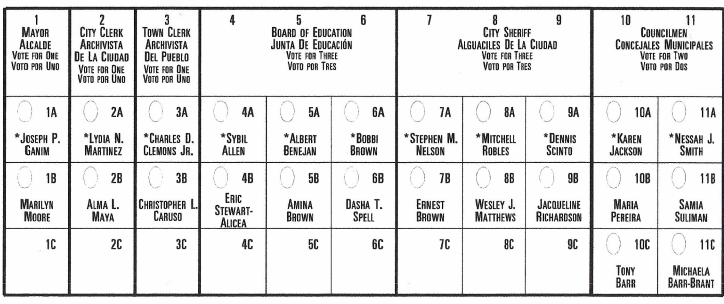 Sample ballot Upper East Side
Examine all the candidate personalities you want. Debate the issues. Parse respective messages, demographics, money, organization.
In the end, what becomes tangible in a political campaign?
In close Bridgeport races, measurement is determined by absentee ballots, the only form of early voting allowed by Connecticut state law.
Most states offer advanced early voting. Wanna vote now? No excuse required. Connecticut allows something called excuse-only early voting. That means, for example, absence during voting hours, illness, physical disability, religious activity, military duty.
Each Tuesday and Thursday the Town Clerk's Office, as a measure of transparency (thank you Town Clerk Charles Clemons and Deputy Christina Resto), issues a complete list of electors who have requested an absentee ballot. This becomes instructive for political operatives to gauge what they expect to bank vote-wise before the polls open, in this case Tuesday's Democratic primary featuring incumbent Mayor Joe Ganim and opponent State Senator Marilyn Moore.
As of Thursday about 1,200 city electors have voted absentee, a number that will rise several hundred more by Tuesday's vote.
Mayor Joe Ganim has a commanding lead in that department over Moore by virtue of his organizational support.
Four years ago, when Ganim made a remarkable return to the mayoralty, he did not win the absentee ballot count (repeat, Ganim did not win absentee ballot vote) which went to incumbent Bill Finch who won that margin by roughly 200 votes. Ganim defeated Finch by roughly 600 votes on the machines to win the primary on his way to a general election win.
Moore has a much higher machine count burden to reach to defeat Ganim based on the returns to the Town Clerk's Office. No, the ballots cannot be opened and counted, by state law, until primary day, but based on the neighborhoods of return it's overwhelmingly Ganim country: West End, South End, East Side and East End, the areas where Moore is least known.
Doesn't mean Moore's camp isn't working absentee ballots. It is. But the campaign doesn't enjoy the institutional support of Ganim, and, in some cases has rejected absentee support from operatives who reject Ganim.
Case in point, outgoing school board member Maria Pereira who's running for City Council in the Upper East Side 138th District. Pereira's a bold personality who's something of an acquired taste. If she's against you, look out. If she's for you, she's like a one-woman riot squad campaigning morning, noon and night. She has votes. She doesn't like Ganim.
Moore hasn't wooed Pereira, someone who knows her constituency in need of an absentee ballot. "Maria will turn on us at some point," Moore's operatives assert as a rationale for eschewing Pereira.
So what?
In tight, short primary windows it's worth embracing Pereira and holding your breath until the time she turns on you.
You can't govern unless you win. For those who say Pereira isn't worth the trouble, here's the rejoinder … the mercurial Moore operative Tony Barr who finished dead last in a six-way election for mayor four years ago brings more to the table?
Nope.
Doesn't mean Tony Barr has nothing to offer. He does. But not more than Pereira in a search for votes.
Moore needs a mighty machine count to take out Ganim on Tuesday. If that happens she's assured the mayoralty.
If she fails the good news is she has a second bite of the apple in November, a safety net that could be more difficult than the primary, depending on Tuesday's result.