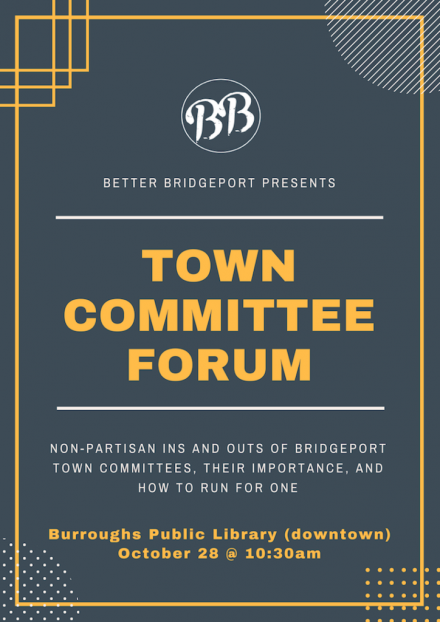 This forum should be a beauty. Former State Rep. Chris Caruso and ex-City Council members Lisa "Honey" Parziale and Rick Torres on the same panel discussing the ultimate insiders of politics, town committees. All three have served on town committees, with Caruso and Torres once chairs of their respective Democratic and Republican parties in the city. And all three are not short on opinions.


In March, Bridgeport's 90-member Democratic Town Committee will likely have a number of primaries in 10 districts. When that battle is done the next task is electing a chairman and other party officers. Town committee members conduct party business and endorse candidates for public office. The chairman selects delegates to respective state party conventions. Mayor Joe Ganim would like to line up as much delegate support as possible at the state gubernatorial convention in May.
Ganim's long-time friend Mario Testa has led the Democratic Town Committee, in his latest run, since March 2008.
In 2007, Torres' disdain for the city's Democratic insider politics was such that he, as the Republican town chair, endorsed Caruso in the Dem mayoral primary. For this act of political infidelity Republican Party operatives promptly booted Torres as chair. Caruso, running as a party outsider, lost the primary to Bill Finch in a close vote. Torres would go on to be the Republican standard bearer for mayor in 2011 and 2015. He also ran for mayor in 2003, as did Caruso.
The community action group Better Bridgeport will shed light on the town committee process be it Democratic, Republican or Working Families, at a morning forum October 28, 10:30, at Burroughs Public Library Downtown.
From Better Bridgeport:
Democratic Town Committee
Republican Town Committee
Working Families Town Committee

You've probably heard of them, but how much do you know about them and how they affect the lives of people in Bridgeport?

How can any town committee improve Bridgeport's civic climate? How can people become more involved?
A town committee's primary function is to select and endorse candidates to run for political office. They also raise funds and provide campaign support. In some communities, they inform, educate and highlight issues to draw more voters to their cause. They should represent community diversity and advocate for shared interests.

In Bridgeport, where the Democratic Party has a 10:1 voter registration advantage over the Republican Party, DTC-endorsed candidates usually go on to win the general election, especially when there is no primary. The DTC has had the same leadership for decades. Many citizens feel disenfranchised. This contributes to low voter turnout.

What can we do to make things better?
More citizens need to become informed, get involved and win seats at the table. Let's discuss what healthy and vibrant committees look like, what they can do, and how you can run for a seat on a town committee.

A panel of current and past Bridgeport town committee members will share their experiences, insights and personal opinions.

Panelists: Sauda Baraka, Christopher Caruso, Vincent DiPalma, Lisa Parziale, Rick Torres