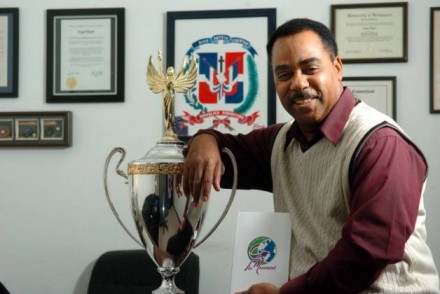 Journalist, businessman, civic activist Angel Reyes, who intentionally did not seek the Democratic Party endorsement for Connecticut's 128th State House seat because, he says, he wanted to run outside the party establishment, is receiving support from City Councilwoman Lydia Martinez who's generally establishment as establishment gets. The queen of absentee ballots has been knocking on doors of East Side voters pushing Reyes' candidacy against party endorsed Christina Ayala, daughter of Democratic Registrar Santa Ayala and former City Councilman Tito Ayala who won control of the East Side in a March town committee fight against Lydia. Lydia's had a long-running battle against Santa and Tito.

Reyes has submitted petition signatures for certification by elections officials to qualify for an Aug. 14 primary challenge against Christina Ayala. He needs just under 400 approved signatures representing five percent of registered Dems from the legislative district. Santa Ayala, to avoid an appearance of conflict, has given the task of reviewing Reyes' signatures to other officials in the registrar's office.
Does Angel's acceptance of Lydia's support undercut his message of running outside the establishment? As city politics goes, establishment is relative. Fights among the establishment go on all the time. Angel has a reputation for integrity and cutting against the political grain. (He supported Chris Caruso over Bill Finch for mayor in 2007.) But in embracing Lydia, who has been fined twice the past few years by the State Elections Enforcement Commission for violation of election law, does he open himself up for criticism? He also does not reside in the State House district. State law, however, allows candidates from outside a district to run. They're required to move into the district if they're victorious. The reality is Reyes needs some boots on the ground and if Lydia wants to help him, why not take it?
This State House race is one to watch. Incumbent Andres Ayala, who's popular in his district, has decided to take a crack at Ed Gomes' State Senate seat for the Aug. 14 primary in which party delegates endorsed Ernie Newton.
Newton's name, by virtue of the endorsement, will appear on the top line following Congressman Chris Murphy who has been endorsed for U.S. Senate. Christina Ayala will follow Newton on the ballot. Line B, the second line, will feature Murphy challenger former Connecticut Secretary of the State Susan Bysiewicz. Andres Ayala, Tito's nephew, will follow Bysiewicz. Angel Reyes, assuming ballot approval, follows Andres Ayala.
(Gomes will appear by himself on Line C because line selection is based alphabetically.)
The Ayala name is well known on the East Side. Andres and Christina are cousins running on separate lines. Will they siphon votes from one another?