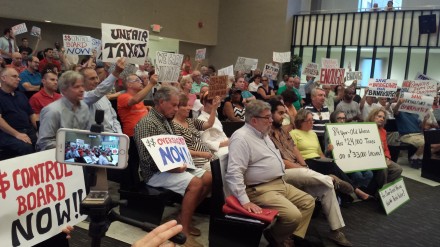 Another cranky crowd–mostly from the highly taxed Black Rock neighborhood–packed City Council Chambers Monday night, four weeks after venting about tax increases, to once again remind members of the budget and legislative body they haven't forgotten about the impact on their pocketbooks. Former U.S. Comptroller General David Walker received a standing ovation in his call for the council to support creation of a financial oversight board that must come from a state legislative act.

The actual council meeting itself was a bore, taking all of 10 minutes. The real action came prior during the public speaking portion backed by a throng of more than 300 vexed taxpayers with a smattering that talked through the Pledge of Allegiance led by Mayor Joe Ganim who was soundly booed when he took his seat to chair the council meeting.
At issue is the July 1 tax bills with the implementation of the valuation of taxable property that predominantly rocked Black Rock homeowners. Carrying signs "Control Board Now!!" and "Unfair Taxes" and many others, seething neighborhood residents showed up to remind council members of several things: don't take us for granted, we're in pain and do something dramatic such as urging the state to assemble a fiscal oversight board, something with which Ganim is familiar.
When he took office in November of 1991 the city was under the thumb of the Bridgeport Financial Review Board put in place in early 1988 when Democratic Mayor Tom Bucci requested state assistance to close an accumulated $55 million deficit. The state did not write a check. Basically it allowed the city to use its bonding powers to borrow the money to wipe out the deficit. But that allowance came with financial shackles, creation of an oversight board whose primary task was to ensure the city's budget was in balance. While some laud an oversight board, critics argue taxes also increased during the period it existed when the city's mil was actually higher than the current 54 mils. The review board dissolved itself under Ganim in the summer of 1995 satisfied his administration had met the financial standards to declare independence.
All that history is no salve to angry taxpayers who vented Monday night.
Walker took to the lectern to urge the council to support an oversight board arguing city finances are too messy for a local fix.
"The financial oversight board," said Walker, "would be established by state statute and would work with city leaders to restructure the city's finances. The authorizing statute should put everything on the table including current collective bargaining agreements."
Walker said "absent this restructuring, Bridgeport will eventually file for bankruptcy."
When Ganim was elected mayor in his first tenure the city was literally in bankruptcy court placed there by his Republican predecessor Mary Moran in June 1991. It was opposed by the state. A federal bankruptcy judge ruled against the city declaring it had not met the legal burden of financial insolvency. The city appealed, Ganim defeated Moran, and then Governor Lowell Weicker told Ganim he would be a friend to the city if he withdrew the bankruptcy appeal. Weicker infused the city with tens of millions in new revenue to buy Ganim breathing room. Taxes did not increase for 10 years.
In his address to the City Council Monday night Walker said an oversight board needs extra powers modeled after the federal oversight of financially troubled Puerto Rico. "That board has expanded powers far beyond Bridgeport's past financial review board. It would not just focus on the short-term budget, it would also facilitate the structural changes that are needed to avoid bankruptcy and grow the tax base faster than the budget over time."
Ganim, for one, and many council members afterwards were unmoved by Walker's resolve arguing they are capable of righting the city's financial ship.