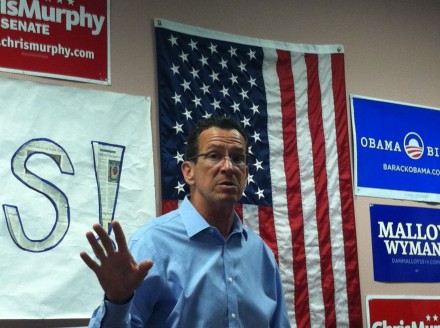 Governor Dan Malloy on Saturday visited Bridgeport's Democratic campaign headquarters Downtown hoping to energize a voter base that delivered a 14,000-vote plurality in his razor-thin win over Republican Tom Foley in 2010. Malloy enters the gut of the campaign season with the specter of Jonathan Pelto poaching votes from him in what is shaping up as another tight general election for a second four-year term.

Pelto says he's about halfway home in his effort to secure roughly 7500 certified signatures of registered voters in Connecticut to place his name on the statewide ballot in November as a petitioning candidate. Pelto has several campaign operatives on the ground in Bridgeport securing petition signatures. He has until August 6 to submit signatures to elections officials.
Pelto, a political and communications strategist, has become a relevant player in the campaign landscape for his appeal to education voters. Pelto, from his website, has taken long and hard positions against Malloy betraying progressive sensibilities such as his embrace of Common Core education standards and supporting the state takeover of Bridgeport schools that was eventually overturned by the Connecticut Supreme Court.
Pelto, Malloy, and the Republican gubernatorial team of State Senator John McKinney and Bridgeport resident David Walker addressed the Connecticut Working Families Party on Saturday. Malloy is expected to receive the WFP endorsement.
In 2010, Tom Foley received more votes for governor on the Republican line than Malloy received on the Democratic line. The 20,000-vote difference was the Connecticut Working Families Party line where Malloy's name also appeared for an extra 26,308 votes. Combined with his Democratic vote haul, Malloy was elected governor by roughly 6,000 votes following a grueling election-day ballot shortage in Bridgeport that created chaos and made national headlines.
But Pelto's presence on the ballot provides a landing spot for education advocates opposed to Malloy, but also suspicious of the eventual Republican nominee. Foley and McKinney will face off in an August 12 primary.