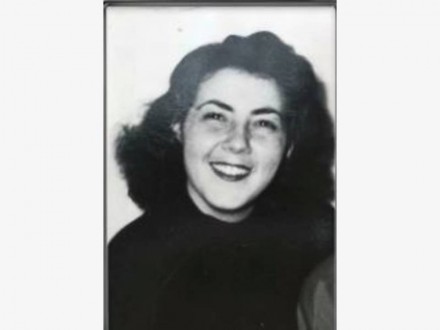 Bold, caring, passionate. Terri Pontillo, just liker her brother John Mandanici who served as mayor from 1975-81, was an engaging personality active in city politics for decades. She also served as acting city treasurer. Funeral services will take place on Wednesday, March 21 at 10 a.m. in St. Jude's Church, 707 Monroe Turnpike. Interment will follow in St. Michael's Cemetery, Stratford. Friends may greet the family on Tuesday, March 20, from 4 p.m. until 8 p.m. in the Abriola Parkview Funeral Home, 419 White Plains Road, Trumbull.

Her obituary:
Teresa V. Pontillo, age 82, of Monroe passed away peacefully on Saturday, March 10, 2018 at St. Vincent's Medical Center. She was the beloved wife of Salvatore P. Pontillo. Born in Bridgeport on March 8, 1936 she was a daughter of the late Virgilio Mandanici and Maria Giardina Mandanici.

Terri was employed by the City of Bridgeport, initially at the Dinan Center as a Patient Family Counselor, followed by the Bridgeport Social Services Department, and eventually holding the position of Acting Treasurer until her retirement at age 69. The youngest sister of Mayor John C. Mandanici, Terri was an active member in the Democratic Federation of Women. Once she established residency in Monroe, she became active in the Democratic party and ran for office several times. Terri served on the Board of Directors for the Boys and Girls Clubs of Bridgeport. Terri was also an active member of the Women's Auxiliary of the American Legion Post 176, and a volunteer at St. Vincent's Cancer Center.

Terri's greatest enjoyment was found in the time spent with her children, grandchildren and great grandchildren. She was an avid Pinochle player and enjoyed playing with the girls on Wednesdays. Terri was a devoted wife, mother, grandmother and great grandmother and will be deeply missed by all who knew and loved her.

In addition to her beloved husband of 61 years, Sammy, other survivors include her loving son, Paul, his wife Susan, and their children Paul Joseph, Brandon, Erica and Alex. Also left to cherish Terri's memory is her devoted daughter Connie Belush, and children, Michele and Jon. Terri was blessed with three great grandchildren, Kiersten, Paul Joseph, and Cameron. Terri is survived by her nieces Theresa Valentino, Rosemary Goode, and her nephew Michael Valentino, as well as a number of other relatives, including her brother-in-law Anthony Pontillo and his wife, Donnis.

Teresa was predeceased by her brothers Constantino, John, Samuel, Gustave, Ernest, and sisters Rose Korsko and Florence Valentino. Terri was also predeceased by two beloved nephews Virgil Korsko and Marc Valentino.