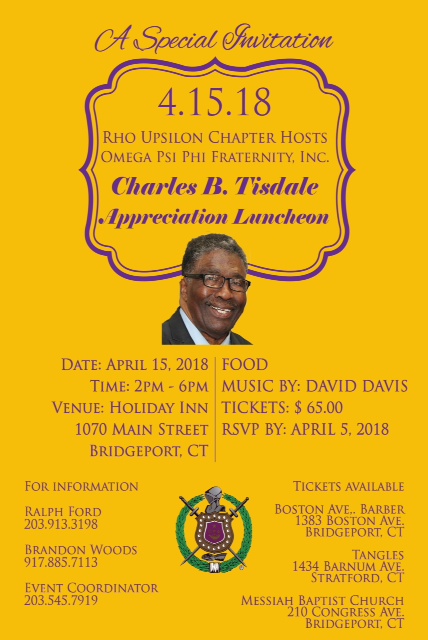 Charlie Tisdale is a significant figure in Bridgeport, both in and out of city politics. He was a Harding High School quarterback. As a candidate for mayor he was a one-man turnout machine who inspired voters to the polls, both for and against him. As a social service leader, he has led for decades Action for Bridgeport Community Development, an anti-poverty agency. He also worked in the Jimmy Carter White House. Now well into his eighties, community leaders have come together to raise funds for an annual college scholarship in his name.

In 1983, Tisdale became the first black in city history to be nominated by the people of a major political party for mayor. It was a wild primary and general election season. In 1981, Republican Lenny Paoletta won the mayoralty in razor-close fashion over incumbent Democrat John Mandanici. Two years later a small army of Democrats sought the mayoralty including Mandanici. At the party convention in July no candidate could muster the 46 votes necessary to secure the endorsement. Tom Bucci, who had worked in the City Attorney's Office during the Mandanici years, came closest.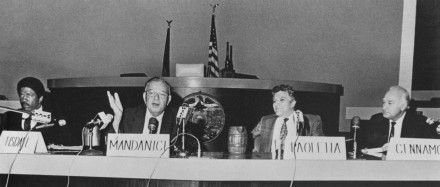 Mandanici had served the city for three terms before Paoletta squeaked a win, amidst an FBI probe of Mandanici's administration and party chaos. (Mandanici was not charged.) Think of a cross between John Fabrizi and Archie Bunker and you have Mandanici. Pure emotion, in your face, sausage finger in reporter's chest: "Look, you little bastard," he'd say, "here's how you're going to write this story."
For his part, Lenny–handsome, bold and determined–could turn a pretty good line. Mandanici really didn't worry about appearances, so Lenny promised: "One of the images we will improve upon is how the mayor conducts himself in public."
Tisdale emerged as the single greatest political organizer in the city stitching together disaffected Dems, young political organizers and swelling registration ranks by inspiring the black community. His followers were dubbed the Tizzies. A cagey, calculating, smart policy wonk, he had challenged Mandanici in a 1981 primary. Mandanici won, but couldn't make peace with Tisdale. Fifty percent of the black community, believe it or not, voted for the Republican Paoletta.
Two years later, the Democratic convention was deadlocked. No one received the endorsement for mayor. Bucci had the most support, Mandanici had a bloc of votes, as well as Tisdale. Mandanici's City Attorney John McNamara was also a mayoral candidate. In a crowded field of white candidates, Tisdale won the primary, becoming the first black to run on a major-party ticket in the city.
After the primary Arthur DelMonte, who had secured a ballot spot on the Taxpayer Party line, ceded his ballot line to friend Mandanici.
Some Democratic regulars, and white voters suspicious of Tisdale, split off with Mandanici. Electorally, the city was a much different place, white voters were the majority and the gap between registered Democrats and Republicans not nearly the 10 to 1 of the current registration. Seemingly it was the best chance, considering the times, for Tisdale to win the general election, three white candidates splitting that constituency. Tisdale fundamentally did not campaign north of Capitol Avenue in heavily white neighborhoods. He worked turnouts in heavily black and Latino precincts. He ran a close, spirited race.
Paoletta won the election with approximately 16,000 votes to Tisdale's 15,000. Mandanici received 10,000 votes. Ralph Cennamo, as a petitioning candidate, picked up a couple thousand votes. The citywide turnout eclipsed 70 percent. To compare, general elections for mayor in modern times are hard pressed to hit 30 percent.
In 1985, Bucci defeated Paoletta for mayor after a hard-fought primary win over Tisdale. Bucci and Tisdale made peace. As part of the deal, Tisdale was appointed director of economic development.
Details of upcoming Tisdale event. For ticket and contact info see graphic above.
Please join the men of the Rho Upsilon Chapter, of the Omega Psi Phi Fraternity, Inc., as we celebrate Brother Charles B. Tisdale with an appreciation luncheon. The event is to be held on Sunday April 15th, 2018 at the Bridgeport Holiday Inn, from 1:00pm to 5:00pm. Brother Charles B. Tisdale is the longtime Director for Action for Bridgeport Community Development (ABCD) and an advocate for the city of Bridgeport. We are aspiring to raise funds for a scholarship in his name that would be awarded yearly. The Charles B. Tisdale Scholarship will be given to a deserving Bridgeport area high school senior that exemplifies a commitment to service similar to our Brother Tisdale.

At the appreciation luncheon, there will be a host of ways that one can contribute to the funds for the scholarship. We are asking for your help. It is our hope, to be able to facilitate a raffle or an auction, to be able to further generate funds, such that the scholarship we award will be able to make a major impact on the awardee. We would appreciate, if you or your company, made a donation to our cause.

As you may know, The Omega Psi Phi Fraternity, Inc., was founded in 1911 on the campus of Howard University in Washington, D.C. Our organization has four cardinal principles of manhood, scholarship, perseverance and uplift. It is our mission to serve the community through mentoring, voter registration, education on various topics and providing scholarships. The Rho Upsilon Chapter has been serving the Bridgeport community since its founding in 1952. The Omega Psi Phi Fraternity, Inc. is a nonprofit 501c3 organization.