Humpty Dumpty Sat On A Billboard …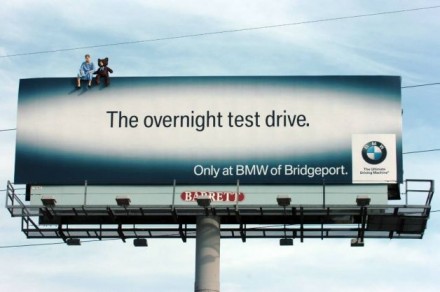 Jumpers Beware: let's give this billboard thing some thought because with potential Democratic Town Committee primaries on the horizon and election for party chair in March who's going to get thrown under the bus, or should I say off the top of the billboard? This is smash-mouth city politics at its best.
I mean, if that were Dem chair Mario Testa snuggled next to former Dem honcho John Stafstrom, not warm and fuzzy teddies, on that billboard, who makes the first move to provoke a freefall? Does Mario whack John with a side of beef? Does attorney John throw a couple of Connecticut General Statutes at the restaurant proprietor?
We could turn it into one of those American Gladiators jousting competitions and provide each with a sack of town committee proxies for high-altitude pelting. "Watch out for that vertical drop!"
Or as an as undercard attraction, we could open with City Council members Bob Troll Walsh and phone-call nemesis Evette Brantley. Maybe Steel Point developer Robert Christoph will be down below holding a safety net for Evette. And if Troll's in freefall nothing but concrete. Don't worry Troll fans, Bob has a mighty hard head. He might crack a new pothole on I-95 and then torture Mayor Bill Finch for not filling it. "Wait a minute," says the mayor, "that's Jodi Rell's job."
Or, as State Rep. Chris Caruso might say, "That pothole is big enough to build the governor's juvenile detention center."
And then, for the main event: Caruso and the mayor pound each other with a sack of absentee ballots. The ballots explode into a kaleidoscope of confetti. And down below South End District Leader Mitch Robles screams, "Wait a minute, that one's not filled out."
By the way, what's the big idea of those BMW guys lifting OIB's slogan? Just for that I'm going to ask them to make overnight test drives available to all OIB readers.
Curry's Political Spice
Carolanne Curry, once a major supporter of Mayor Bill Finch, is in a battle with the city to collect unemployment benefits after she was dismissed several months ago from the revamped government-efficiency CitiStat Program. The city did not announce a specific reason for her job elimination. Curry, a key component of the Finch Democratic primary that slipped by State Rep. Chris Caruso by just 270 votes in 2007, received a city position early in the Finch administration, but had a falling out. Curry distributed the following email to her contacts the other day:
I thought my emails on this subject had ended with my last one on December 11th to you all.

Not so …

And I think it's important to note just how far the Mayor of Bridgeport is willing to go to deny to me or to anyone else in the City that is on his "hit list" … even a minuscule of fairness.

On Saturday, January 16th, another letter came from the State Department of Labor informing me that the City had once again filed an appeal against the decision to extend unemployment compensation to me.

Again this means preparing for another onslaught of preposterous allegations a.k.a. lies … before yet another Board of the Labor Department. But of course I will prepare and I will make my case again.

Because there is such a history already of the Finch administration engaging in this kind of action against many others previous to me and after me, it is obviously standard operating procedure at this point.

I don't think anyone will be surprised that come the next Mayoral election in Bridgeport, I won't be working for the re-election of anyone in the current administration. I remain with the belief and hope that Bridgeport can produce a Mayoral administration that is competent and not corrupt …
From Chris Keating, Hartford Courant
State Republican Chairman Chris Healy says that Attorney General Richard Blumenthal should not be involved in one of the biggest political controversies of the moment — whether Susan Bysiewicz is qualified to run for attorney general.

Bysiewicz has asked Blumenthal for a legal opinion on the previously innocuous state law that says an attorney must have 10 years of active practice in Connecticut to become attorney general. Some attorneys are saying that Bysiewicz does not have the 10-year minimum, which she strongly disputes — saying that her 11 years as secretary of the state should count because she is running a public-interest law firm that consistently provides legal advice on the state's elections laws.

Healy, though, says that Blumenthal should stay out of it.

"A first-year law student would tell you Dick Blumenthal has absolutely zero jurisdiction over this issue," Healy told Capitol Watch. "It's a conflict for him to say whether she can run for his office."

The matter, he says, can only be decided by a judge.

"Only the Superior Court can do that," Healy said. "If she continues to pursue this, an aggrieved party — presumably another candidate — could seek an injunction."