Chris Dodd has at least two million clams left in the campaign account of his U.S. Senate seat for which he'll not seek reelection.
What to do with it? Give it back to those jolly corporations that plied him with dough through the decades? Nah. Give it to candidates? Possibly. Give it to charity? Could be. Hey, I know loads of organizations in Bridgeport that need that loot. I've been waiting for all my Chris Dodd friends to convince me what the heck he's done for the state's largest city in 30 years. Still waiting.
But, but, but, here's Dodd's chance at redemption. Give it to Bridgeport. What say you?
From Lake Forest neighborhood watchdog Jeff Kohut:
More flooding from Trumbull development — public hearing on 1/20/10

All Lake Forest Area residents, including our neighbors in southern Trumbull near our border, as well as all other Bridgeporters — especially those living along the Trumbull Border — are urged to attend the Trumbull Planning and Zoning meeting/public hearing on Wednesday, 1/20/10, at 7:30 PM, which concerns a proposed zone change for 10 acres of land in Trumbull, directly on the Bridgeport border, to be used for the expansion of the Cooperative Educational Services (CES) facilities between Lindeman Drive and Horseshoe Drive off of Old Town Road. The meeting/public hearing, will held be in Trumbull Town Hall, 5866 Main Street (across the street from Trumbull Stop-and-Shop and adjacent to Trumbull Library), in the Council Chambers… (See Connecticut Post, Friday, 1/15/10, classified section, page D9)

Those Bridgeporters who live on our border with Trumbull have experienced, directly, the absolute disdainful disregard of the Trumbull municipal government for the health, safety, and financial well-being of the people of Bridgeport, as unmistakably manifested in their official municipal development policy of locating their commercial, municipal, industrial, and high-density residential development directly on Bridgeport's borders in order to parasitically access Bridgeport's sanitary and transportation infrastructure, while at the same time sparing their own neighborhoods (save a few of the more-modest border neighborhoods) from any of the adverse effects of such development… Indeed, Trumbull's grand- list is built on the backs of Bridgeport taxpayers. Many once-stable, once-thriving — once enviable — Bridgeport neighborhoods have had to deal with the neighborhood-eroding effects of decades of inappropriate Trumbull border development.

Over the past five decades, stability, overall quality of life/health-and-safety, and property values, in essentially every Bridgeport neighborhood bordering Trumbull, have been severely and permanently negatively impacted at the hands of Trumbull and its developer-driven, elitist, mercenary municipal government –- as part of an all-but-publicly-stated, albeit unofficial, nefarious plan to grow Trumbull's tax-base and burnish its elitist credentials by hijacking Bridgeport's infrastructure and effectively isolating its populace from Trumbull's residential interior by directing all infrastructure-intensive development to the Bridgeport-border areas of town …

Among the many injuries inflicted upon Bridgeport and its neighborhoods by Trumbull, and its border developers, such as Robert Scinto, are the myriad of well-recognized neighborhood-destroying effects of intensive development — such as traffic-safety issues, and noise and air-pollution related to drastic increases in car and truck traffic on main-artery and border-area roads in Bridgeport neighborhoods located proximally to, or on the path with respect to, Trumbull border-area developments of the aforementioned categories …

But perhaps the most threatening and difficult-to-mitigate effect on Bridgeport neighborhoods resulting from Trumbull's inappropriate and excessive border-development is the deadly threat of catastrophic flooding, which the Bridgeport border-neighborhoods downstream from the modern Trumbull border-developments have had to endure. Indeed, especially over the course of the past 30 years, severe flooding in Bridgeport and extreme-southern Trumbull — directly attributable to upstream watershed loss/development and wetlands obliteration in Trumbull during the course of the aforementioned period — has caused tremendous property damage and has presented an actual risk to human life in these areas.

Additionally, the sanitary sewer/storm-drain system in Bridgeport has been compromised and actual sewage back-up into Bridgeport homes has occurred as a result of the flooding caused by the upstream Trumbull development/watershed-wetlands obliteration and the Trumbull tie-in to the Bridgeport sewer-system …

One of the most frustrating aspects of this affront to the people of Bridgeport by the Town of Trumbull is that most of the problematic development activity has occurred in violation of Connecticut wetlands statutes. It is utterly amazing that any more than a small fraction of the development and wetlands changes made in Trumbull during the course of the past 50 – especially the past 30 – years have gone unchallenged by the DEP and the Attorney General …

In any event, the current move by CES to rezone 10 acres along Old Town Road and obliterate more border-area watershed and wetlands must not be allowed to occur …

All Bridgeporters and their state and municipal elected officials must join their fellow Bridgeporters at the meeting on Wednesday and do everything in their power to prevent the further harm of Bridgeport citizens by the municipal government of Trumbull.

Please call the state and local elected officials listed below, and demand that they attend the meeting and resolve to speak and act to protect the citizens, and municipal integrity, of Bridgeport:

Bridgeport Mayor Bill Finch – 203-576-7201;
MayorFinch@bridgeportct.gov;
Adam.Wood@bridgeportct.gov;
Shurley.Lazarus@bridgeportct.gov

Attorney General Richard Blumenthal – 860-808-5318;
attorney.general@po.state.ct.us

State Representative Chris Caruso – 860-240-8585; 800-842-8267;
Chris.Caruso@cga.ct.gov

State Representative Jack Hennessy — 860-240-8585; 800-842-8267;
Jack.Hennessy@cga.ct.gov

State Senator Ed Gomes (23rd) – 860-240-0558; 800-842-1420;
Gomes@senatedems.ct.gov

State Senator Anthony Musto (22nd) – 860-240-0558; 800-842-1420;
Musto@senatedems.ct.gov

Councilperson Michelle Lyons (134th) – 203-414-7926;
Michelle.Lyons@bridgeportct.gov

Councilperson AmyMarie Vizzo-Paniccia (134th) – 203-610-7620;
AmyMarie.Vizzo-Paniccia@bridgeportct.gov

Councilman Warren Blunt (135th) – 203-521-5559;
Warren.Blunt@bridgeportct.gov

Councilman Richard Bonney (135th) – 203-374-1302;
Richard.Bonney@bridgeportct.gov

Councilman Carlos Silva (136th) – 203-371-7672;
Carlos.Silva@bridgeportct.gov

Councilman Angel dePara (136th) – 203-382-1199;
Angel.dePara@bridgeportct.gov

Councilman Robert Curwen (138th) – 203-371-1092;
Robert.Curwen@bridgeportct.gov

Councilman Richard Paoletto (138th) – 203-373-9694;
Richard.Paoletto@bridgeportct.gov

Be well. Be safe. Be in touch!

Jeff Kohut, LFBWNP
203-372-2791 (h)
203-394-7678 (c)
JPKOHUT1@aol.com
LFBWNP04@aol.com
No Pat On Head
I've not met Ed Patru, Linda McMahon's Communications Director, but this guy is a killer. Here's Patru's latest:
Rob Simmons is getting nervous. The 38-point lead he enjoyed in September has all but evaporated, according to this week's Quinnipiac Poll. He can't win on the issues because his voting record is grossly out of step with mainstream Republicans. So he's resorted to false attacks on Linda.

'Candidate' Simmons claims he opposes the positions he took in Congress. So which do we believe? Simmons' actions while in Congress or his words now as a candidate in a Republican primary? Actions speak louder than words.

As a career politician, Rob built a record of standing with liberal Democrats in Congress to support budget-busting, job-killing legislation. He twice co-sponsored Card Check legislation, a bill that would force workers to sign a union card in public instead of voting by secret ballot. He partnered with liberal California Democrat Henry Waxman in co-sponsoring Cap-and-Trade climate change legislation, a bill that would raise energy costs in Connecticut, even though the state's energy costs are already among the highest in the nation.

In Congress, Simmons routinely earned 'C' and 'D' grades from the National Taxpayer Union because he voted for more than 350 bills that increased spending and only 13 bills that cut spending. He twice voted to raise the federal debt ceiling … by more than a Trillion dollars!

It's no wonder Simmons doesn't want to talk about issues. Instead he's been misleading Connecticut voters for months by falsely claiming Linda has only voted twice in her life — even though he knows it isn't true.

Simmons' False Campaign Attacks: "[Linda McMahon] voted only twice in her life" and "Because of [Linda's] failure to vote more than twice in her life … Republicans have reason to question [her] commitment to the Republican Party."

The Truth: According to the Greenwich Registrar of Voters, Linda "has been a registered voter [in Connecticut] since October 9, 1984 and has voted in the following elections: 11/07/2000, 11/5/2002, 11/2/2004, 11/4/2008 and 11/3/2009." It's important to note that Greenwich only keeps voting records going back to 2000.

Linda has been up front with the voters regarding her voting record from the day she announced. She is not running away from her record. Why is Rob Simmons so intent on tearing her down instead of building himself up or discussing HIS record?

Simmons has clearly made a strategic decision to employ an 'anything goes' approach, however dishonorable and deplorable the tactics may be. His deceptive attack on Linda's voting record is patently false, dealing a huge blow to Rob Simmons' credibility.

Linda believes Connecticut voters deserve the truth, not more of the same kind of slash-and-burn politics we've come to expect from career politicians.

She is running for Senate because only an outsider with real conservative values can be trusted to change Washington's failed economic policies.
Musto Gusto
Prophetess Gerry Claytor runs the food pantry located in the Gary Crooks Community. See her remarks below following help from State Senator Anthony Musto:
Senator Anthony Musto delivers, "PROMISE"!

PT BARNUM FEED THE PEOPLE FOOD PANTRY

On or around September 3, 2009, Prophetess Gerry Claytor Posted on Facebook to her friend, Councilwoman AmyMarie Vizzo-Paniccia a request for a donation/donor to come forth to donate a commercial freezer and a commercial refrigerator to our PT Barnum, Feed The People Food Pantry. Senator Anthony Musto, a friend of Councilwoman Vizzo-Paniccia saw the post, contacted me and inquired about my request. Several days later he informed me that he would see if he could get some money. He said he was in senate session and could put the request forth. I told him, by faith, I'd already gone to Globe Equipment in Bridgeport and the cost of the refrigerator was approximately $2,700.00 & the freezer $3,700.00. He said he thinks he can get the money. It might take a while, but he feels he can get money channeled into our pantry for my request. He then told me, he appreciates what I'm doing; it's a great need and a great cause! He'd be in touch and do what he can! He did! Monthly he stayed in touch with me! Hallelujah! Wednesday January 13, at three o'clock, we dedicated the appliances and thank God for Senator Musto for his liberal and strong support! We love him!

Our community is very happy! Now they can have meats, fresh vegetables, fruit, milk, eggs, butter, juice and other perishables!

Prophetess Gerry Claytor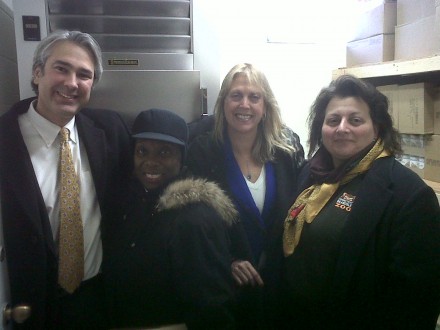 Malloy, Oh Boy!
Hey, want to meet and support Dan Malloy for governor? He'll be in Bridgeport soon at an event hosted by my favorite chiropractor Doc Jennifer Lynne and developer extraordinaire Kim Morque, one of the city's emerging downtown property owners.
Dr. Jennifer Lynne and Kim Morque invite you to join them in welcoming

Dan Malloy

Former Mayor of Stamford

to a reception in support of his

Exploratory Committee for Governor

Thursday, February 4, 2010

5:30-7:30 pm

at "The Backstroke"

181 State Street, Bridgeport, CT

Drinks and hors d'oeuvres will be served.

Suggested contribution: $50. Maximum allowed: $375

RSVP to Kate at (203) 588-1345 or kate@danmalloy.com

Your personal check, made payable to Dan Malloy for CT
Latest letter from P.T. Barnum Residents Association
PT BARNUM RESIDENTS' ASSOCIATION

"SHADOW TASK FORCE"

c/o GARY CROOKS COMMUNITY CENTER
301 BOSTWICK AVENUE
BRIDGEPORT, CT 06605

JANUARY 13, 2010

DONNA FEWELL, PRESIDENT
JOHN HERNANDEZ, VICE-PRESIDENT

Bill Finch, Mayor
City of Bridgeport
City Hall Annex
Bridgeport, CT 06604

Nicholas Calace, Executive Director
Bridgeport Housing Authority
151 Highland Avenue
Bridgeport, CT 06604

Gentlemen:

On November 20, 2009, following a tragic fire at PT Barnum apartments, a task force on fire safety was established by the Mayor. Since residents were not invited to be a part of this task force, as president of the residents association, on November 24, 2009, I took the initiative and formed a "Shadow Task Force." This unofficial task force included retired Bridgeport Firefighters, community leaders and residents of the PT Barnum Complex.

After residents and members of the task force discussed the entire situation, we decided to circulate petitions, calling for the installation of smoke/fire detectors in each apartment that would be tied into a 911 central monitoring station that would alert the Bridgeport Fire Department. The Ocean Avenue Fire House is a short distance from the Housing Complex.

On November 30, 2009, we were invited to attend the second meeting of the Mayor's task force. We accepted the invitation. At that time, we presented the Mayor with the petitions, expressed our concern for speedy and swift action and were told that we would be informed of any future task force meetings. We were also told that the meetings were not open to the public and were on an invitation only basis.

On December 1, 2009, we wrote to the mayor and informed him that the meeting should be opened as required by the Freedom of Information Act. He subsequently relented and agreed that any future meetings would be open to the public and to the press.

To our knowledge no additional meetings of the task force have been called. Indeed, we have not been called nor have any of our letters to the Board of Commissioners of the Bridgeport Housing Authority or to the Mayor been answered.

On December 30, 2009, we learned from Keila Torres of the CT Post that an expert in the field of fire safety had been retained to consult with city officials regarding future action. We were not involved in the selection of the expert and were not consulted in any way before the decision was made. It is obvious, notwithstanding our membership in the Mayor's Task Force, that our opinions are not being solicited or taken into consideration. Although we do not question, the expertise of the individual that has been engaged, several questions remain unanswered.

1. Will the expert be reviewing the cause, origin and circumstances of the fire, or will his task be confined to making recommendations for future actions.

2. Has there been a written letter of engagement, concerning the scope of his services? If so, we request a copy of said letter of engagement.

3. What is the cost of these services?

4. Will this be paid by City funds or Bridgeport Housing Authority funds?

5. Will the request made by the residents concerning the 911 alarm system be one of the recommendations reviewed by the expert?

6. Will the expert report to the Mayor's Task Force or directly to the Mayor, the Fire Chief and/or the executive director of the BHA?

7. Will the expert review whether or not the apartments are currently in compliance will all fire and safety codes?

8. Will the expert review and report on whether the apartments were in compliance with all fire and safety codes at the time of the fire?

9. Will the residents be given reasonable notice before the expert, and/or fire officials, seek access to our homes?

Although we are anxious to cooperate with the expert in his endeavors, our primary interest as the individuals most directly affected, is to ensure that this tragedy is not repeated. Our children are still having nightmares over the loss of their little friends and we are, therefore, reminded of this tragedy on a daily basis.

Your immediate attention is requested.

Very truly yours,

Donna Fewell, President

Cc: Board of Commissioners

Bridgeport Housing Authority