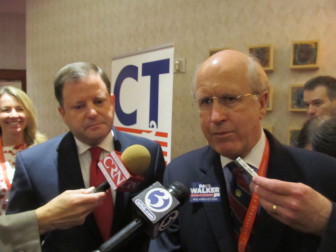 Call them McWalker. Republican candidate for governor John McKinney and running mate David Walker, a Bridgeport resident, announced on Tuesday they will merge their campaign finances to file an application on Wednesday (today) with the State Elections Enforcement Commission to qualify for a grant under the state's Citizens Election Program of publicly financed races.

"State government is broken," McKinney announced in a statement. "We spend too much, tax too much, and over regulate business. The failed formula of the last four years requires honest leaders committed to real change. Dave Walker and I have the experience and commitment Connecticut needs right now."
"John McKinney and I represent a strong team with a real plan to turn around the state and create a comeback in Connecticut," said Walker, the former U.S. Comptroller General.
Under public financing rules, candidates for governor and lieutenant governor can pool their money to apply for a public grant. Qualifying for a grant as a candidate for governor is an extremely labor-intensive process requiring $250,000 in donations between $5 and $100. McKinney, the Republican minority leader, got off to a fast start raising money, but hit a wall to reach the threshold. Enter Walker, candidate for lieutenant governor. McKinney and Walker came together as a team at the Republican convention last month leveraging their respective delegate support to win just enough votes to qualify for an August 12 primary.
The candidates made a pass at trying to qualify for public financing individually, an effort that would trigger a McKinney grant of roughly $1.3 million and a Walker grant of about $400,000. Walker, who'd likely qualify for a grant on his own, gave his word to McKinney that he would not do to him what Heather Bond Somers, a candidate for lieutenant governor, did to Danbury Mayor Mark Boughton, a candidate for governor. After publicly announcing they would run as a team, she pulled her money away from Boughton who came up short qualifying on his own. As a result, Boughton has suspended his campaign for governor.
"I gave my word and now we will be running as a team," Walker told OIB Tuesday afternoon. In fact, this financial alliance places McKinney and Walker as the only Republican candidates running together. Walker will not have $400,000 to spend solely on his own, but the candidates can now decide, if they qualify for public financing, how the campaign money will be allocated.
Tom Foley, who also is seeking public financing, is the Republican endorsed candidate for governor and State Rep. Penny Bacchiochi, the endorsed candidate for lieutenant governor. They will run on the same line in the primary, but Foley has not endorsed her. Bond Somers will run on her own as a candidate for lieutenant governor.
McKinney and Walker will run largely as a team. Whether this teaming arrangement resonates with Republican primary voters remains to be seen. Foley, the 2010 Republican nominee for governor, is leading in the polls, but McKinney/Walker will have about $1.3 million to spend if they qualify for a grant in addition to the respective money campaigns have on hand.
In primaries, the candidates technically run on their own accord and as a ticket in the general election. For example, in 2010 as a candidate for lieutenant governor, Boughton ran on the same line as Foley's Republican primary challenger Michael Fedele. Boughton received more votes than Lisa Wilson-Foley, the endorsed candidate.
Foley and Boughton were thrown together as a ticket, losing a close race to Democrats Dan Malloy and Nancy Wyman.