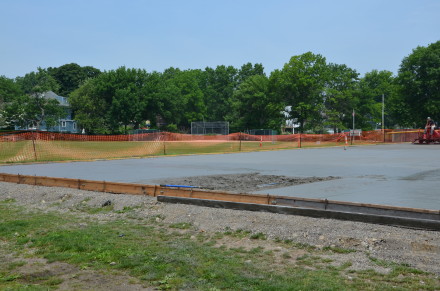 News release from Mayor Bill Finch:
As the summer heat brings more and more people outside to enjoy the outdoors, the City recently began the reconstruction of tennis courts at Ellsworth Park in the Black Rock neighborhood. This park improvement is part of the City's Parks Master Plan, initiated by Mayor Bill Finch to create new parks and enhance parks throughout Bridgeport.

"Throughout the City, we are working hard to build new parks and improve the parks we have, including Ellsworth Park, which plays an important role in the Black Rock neighborhood and has benefited from several upgrades in recent years," said Mayor Finch. "Through our BGreen 2020 plan, we are creating green jobs, serving as a national leader in clean energy, and promoting healthier lifestyles for our residents. These new tennis courts provide recreational opportunities for adults and young people to participate in athletic activity."

The two new tennis courts are being constructed by Connecticut-based Classic Turf Company using its Post-Tension Concrete Installation System, a cost-effective solution that offers a 20-year crack-free guarantee and is built to withstand the harsh New England climate. To learn more about this system, click here.

In addition to the new tennis courts, this improvement project also calls for new fencing, landscaping, and re-seeding to modernize the courts and the park around them. The project is expected to be completed this summer.

"This project will replace Ellsworth Park's aging courts with courts featuring a new more economical and effective playing surface," said Charles Carroll, Director of Parks and Recreation.

Through the Parks Master Plan, the City has created 71 new acres of park land in less than five years, in addition to cleaning up and renovating existing parks. In 2011, several renovations were made at Ellsworth Park including a new splash pad, improved concession area with bathrooms, a playground, and security lights.