Mayor Joe Ganim's up for reelection in 2019, that means lining up capital improvement goodies in time for campaign season such as sidewalks, paving and street lights. Roughly $6 million from the capital improvement budget will be allocated to streetscape beautification.
The City Council's Budget and Appropriations Committee is scheduled to meet Monday night, 6:30 in Wheeler Room A of City Hall for capital improvement authorization as well as other items.
Ganim's gearing up for reelection with no formal opposition yet. That could change as supporters of State Senator Marilyn Moore are urging her candidacy. Will she get in? State Rep. Charlie Stallworth, according to pols, is considering a run.
Ganim will muscle the power of incumbency to advance his reelection chances. He's expected to hold the line on taxes, making it three straight years of no tax increase after a scratchy first-year budget that included revaluation of taxable property that caused a spike in taxes in some neighborhoods including Black Rock that was hit hardest.
Although Bridgeport was the one community Ganim carried in his gubernatorial primary against Ned Lamont, Black Rock Democrats came out huge for Lamont signaling Ganim's troubles in the neighborhood. Still, Ganim did not win Black Rock in either the primary or general election in 2015 during his comeback win. The Democratic establishment's citywide absentee ballot operation alone will offset the Black Rock bleeding.
Playing Santa Claus in an election year will help ameliorate the anti-Ganim vote in some neighborhoods while buttressing his base support. Some of this depends on the strength of the opposition.
If Moore gets in she brings a state senate base into play that covers about one-third of the city including North End, West Side and Black Rock where it appears Ganim is weakest. No one will outspend Ganim who'll likely have $400,000 to $500,000 to invest in a primary. The larger question is how much will an opposition candidate need to be competitive? Recent history shows that $200,000 with a credible candidate building an organized opposition can bring a primary into play.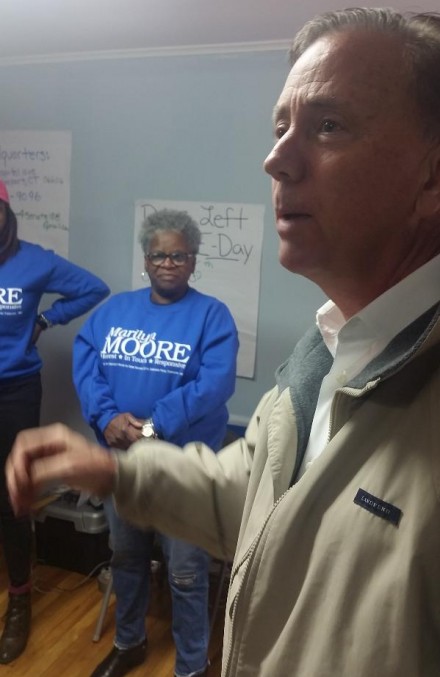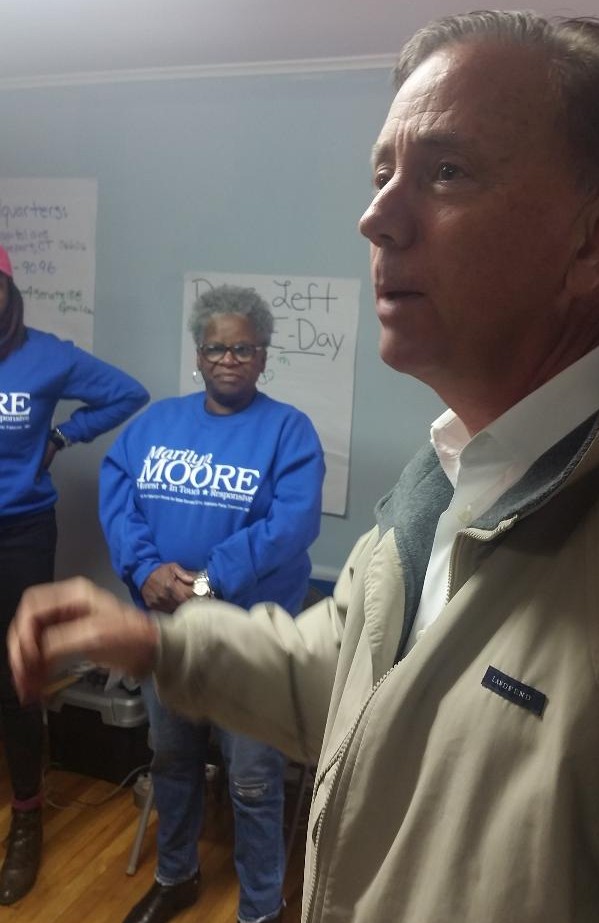 If Moore jumps in she'll be raising money during a busy legislative session that runs from January to June.
As a state senator Moore has raised money under the state's Citizens Election Program of publicly funded races that allows a personal maximum contribution of $250. Public money is not allowed in municipal races. The maximum personal contribution for a mayoral race is $1,000.
Moore has emerged as a face of opposition to the political establishment. She's not cozy with Ganim or Democratic Town Chair Mario Testa. She enjoys a strong relationship with Governor-elect Ned Lamont who approached her about serving as his running mate. She declined. A state commissionership would also be available to her, but that's not something she's considering.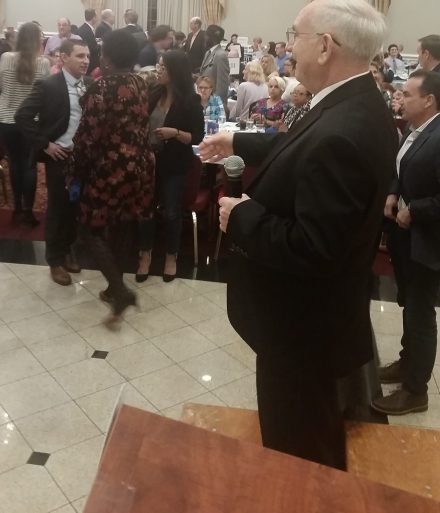 After some testy exchanges during the primary, Ganim and Lamont have what they both term a solid working relationship. Lamont also has an alliance with Testa dating back to 2010 when Testa supported him for governor during his primary loss to Dan Malloy. Bridgeport's mighty general election plurality on behalf of Lamont also buoyed his relationships with Ganim and Testa.
Lamont made some campaign pledges to Bridgeport that–if he can deliver–would be huge for Ganim's reelection budget such as fully funding education and higher state reimbursement to the city for its numerous tax-exempt properties.
So, is Ganim well positioned for reelection? Depends on the quality of the opposition, the budget, crime situation and the visible progress of developments underway such as the 5,000-seat concert amphitheater conversion at the former ballpark at harbor Yard.
Budget Committee AGENDA

General Discussion re: Review of the Monthly Financial Report.
Proposed Approval of General Obligation Bonds – To Fund Certain Capital
Improvement Projects.

Proposed Amendments to the FY 2019-2023 Capital Plan Budget for Approval of
Additional Capital Project Authorization.

Proposed Budget Modification to Fiscal Year 2018-19 General Fund Budget for
the Board of Education: Increase the Education Cost Sharing (ECS) Revenue Line
Item #01863000-44520 ($235,240) in order to comply with the State Minimum
Budget Requirement (MBR).

Proposed resolution requesting the Purchasing Director to provide information on
the Department of Public Facilities purchases.

Proposed resolution requesting the Purchasing Director to provide the City
Council with reports required under the Purchasing Ordinance.