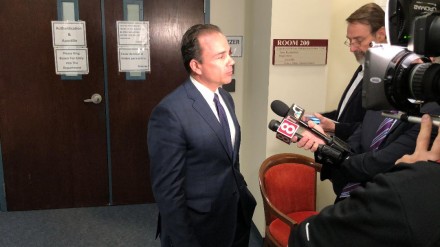 He's a relentless campaigner trying to forge an August Democratic primary for governor. On Tuesday Mayor Joe Ganim's gubernatorial campaign operation will spread out across Connecticut cities toiling for more than 15,000 certified Democratic signatures required to qualify for the ballot.

The Ganim campaign team believes he'll have the necessary 15 percent support at the May 20th Democratic convention in Hartford for a ballot spot, but just in case state party leadership prevails upon delegates to block Ganim's candidacy at the convention they are pressing forward with a signature operation centered on cities including campaign offices in Bridgeport, Hartford, New Haven and Waterbury.
Monday afternoon Ganim pulled the necessary paperwork from the Office of the Connecticut Secretary of the State for a petition drive. It will take an army of bodies to pull this off, an effort requiring more like 20,000 signatures to account for those that are invalidated by elections officials. The signatures are submitted to respective municipal town clerk offices before making their way to state election officials for certification. The state election calendar allows six weeks to collect signatures from Democratic electors in Connecticut.
Heading into the state convention the delegate momentum appears to be with Greenwich entrepreneur Ned Lamont who lost a 2010 gubernatorial primary to Dan Malloy. Former Connecticut Secretary of the State Susan Bysiewicz is vying for delegate support as well.
On the Republican side that conducts its convention a week prior to Democrats it appears Danbury Mayor Mark Boughton and former Trumbull First Selectman Tim Herbst have the most delegate support. Other Republicans such as Bridgeport resident David Walker, Shelton Mayor Mark Lauretti, Fairfield immigration lawyer Peter Lumaj and New Britain Mayor Erin Stewart will need to forge a signature campaign as well if the convention delegate support does not materialize.
From Ganim campaign:
"With headquarters being set up in Bridgeport, Hartford, New Haven, and Waterbury, we are announcing today the beginning of a statewide grassroots petition drive that will tap into Democratic voters who want a choice for governor, not a process manipulated by party insiders," said Ganim.

"We are confident of obtaining 15% of the delegates at the state convention. But as widely reported, certain Democratic party insiders are trying to select the party's gubernatorial candidate, rather than leaving it up to Democratic voters. By obtaining the petition signatures we are building a statewide grassroots organization for the primary that will be inclusive and diverse. By collecting petition signatures, we will insure our place on the primary ballot if certain party insiders manipulate the convention rules," said Ganim.

To get on the Democratic primary ballot, a total of 15,458 registered Democratic signatures are required. Signatures can be obtained beginning May 1 and are due by June 12th.