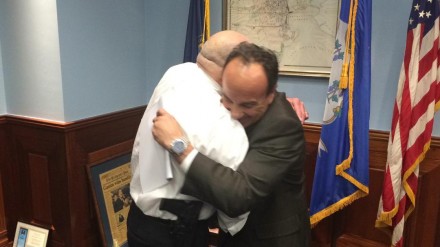 Mayor Joe Ganim on Monday appointed–to no surprise–his long-time friend AJ Perez to a full, five-year term as the city's top cop, a role he's had for nearly three years in an acting capacity.
"Chief Perez has been dedicated to improving public safety and community relations in our city," said Ganim. "Over the last few years he has proven to be leader in bringing the department efficiency through technology in emergency communications, police equipment, and most importantly he has returned to the fundamentals of training and community policing that our city needs to build a department that residents can trust."
Perez said, "I am honored and thrilled to have been selected as the leader of a great police department. Under the leadership of Mayor Ganim, with all the talented men and women of the Bridgeport police force we have taken great steps and made positive impacts that will make our city safer. I look forward to continuing this mission in my capacity as Police Chief."
City Council President Aidee Nieves said, "I am pleased and stand behind Mayor Ganim's selection. In his role as acting police chief for over two years, AJ has positively impacted Bridgeport by bringing back community policing and implementing body cameras. As a result of his leadership and dedication to public safety, Bridgeport crime statistics have greatly improved. The City Council looks forward to seeing all the positive changes he will make in our community."
City Council member of the 139th District Eneida Martinez said, "Police Chief Perez being appointed as leader of our Police Department is a great decision that I fully support. He has gone above and beyond as acting chief that proves he is capable to continue in this role. He has showed the community to be fair and exercise justice when confronted with various battles that weren't his to face. He has earned our respect and I am excited for what will be great changes in our police force.
For the past six months the city's undergone a search for a police chief that was whittled down to three finalists that went before a community forum last week. Captain Roderick Porter and New Haven Assistant Chief Luiz Casanova were the other finalists.
Per regulations of the City Charter approved by voters 30 years ago the mayor selects the chief from the three finalists to a five-year contract. The contract may be renewed for one more five-year term. Prior to that the city's top cop, formerly known as superintendent of police, had been selected solely via the Civil Service testing process. Whoever finished first on the test rising through the ranks got the job essentially for life.
According to the City Charter, following a police chief vacancy, Civil Service Personnel Director David Dunn has 150 days to conduct a test for a permanent chief that could include a written examination or simply oral interviews before a search committee that in the past has been selected by the mayor. A private firm could be brought in to vet and conduct background checks on candidates. The search committee would narrow choices to three finalists.
Ganim delayed the contractual police chief search for two years, given his friendship with Perez who has stood by him for decades during good times and dark days including Ganim's 2003 conviction on public corruption charges. Perez was among numerous city police officers who supported Ganim's 2015 return to the mayoralty. Following community pressure to launch a search Ganim acquiesced in March.
The backdrop of Perez's appointment was Bill Finch, in the last days of his mayoralty, appointing Joe Gaudett to another five-year term rather than allowing Ganim to authorize the process for a new chief. Ganim's comeback bid was buoyed by many members of the police union who wanted Gaudett out. Ganim on the campaign trial pledged to appoint a new police leader.
Finch's reappointment of Gaudett prompted Ganim to devise a strategy to move out Gaudett. He started by bringing in former Chief Wilbur Chapman as a senior adviser on public safety who marginalized Gaudett as chief carrying out mayoral directives.
Negotiations ensued with Gaudett to work out a pricey buyout of his contract worth about $700k. When they could not come to terms, city officials and Gaudett hammered out a contract position overseeing the Emergency Operations Center while resigning as chief.
The three-year contract package worth roughly $125,000 per year allowed Gaudett to continue collecting his $78,534 annual city pension.
Gaudett resigned as chief and Ganim appointed Perez in an acting capacity.
In addition to the trust and loyalty Ganim has received from Perez, the city's lower violent crime rate played to the chief's advantage, or at the very least something Ganim can cite, for the appointment. The city has experienced eight homicides so far in 2018, a number, if it holds 'til the end of the year, would represent the lowest total since the city began keeping such records more than 40 years ago.