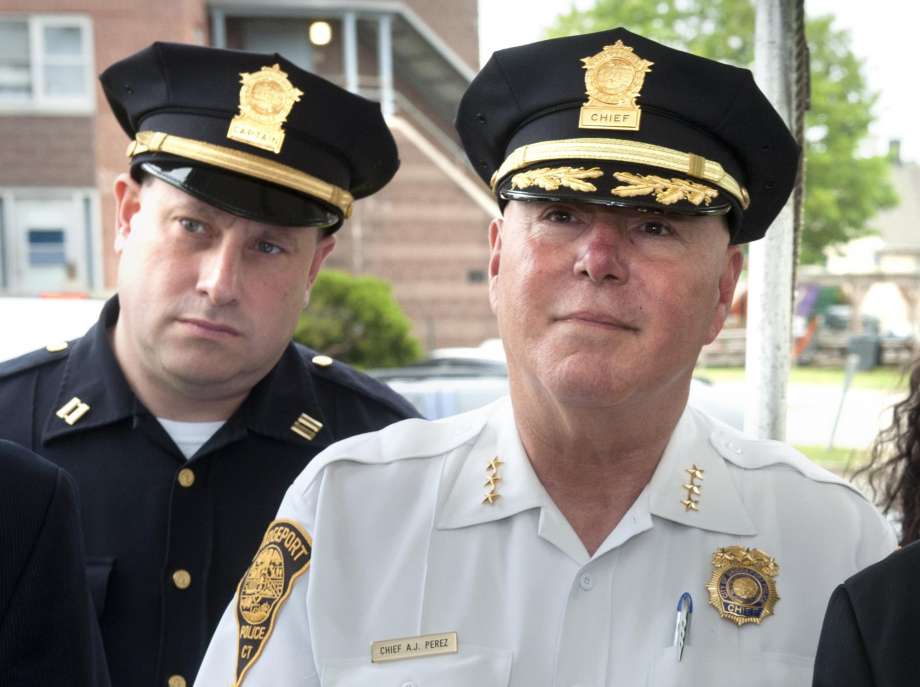 Just days after Captain Mark Straubel was placed on administrative leave in the summer of 2018 for racist texts against the department's highest-ranking African American officer Captain Roderick Porter, Chief AJ Perez visited him at his house to seek additional assistance with the exam to select a permanent chief, an appeal recorded by Straubel who clearly seemed to be of the mind, if I'm going down for this, you're going down for that.
Straubel had something planned the chief wasn't expecting, compiling evidence and recordings to be used against his boss. He's become a key witness in the federal government's exam-rigging case against Perez.
On July 30, 2018, after directing Straubel, his chief aide, not to return to police headquarters following the public blow up over the racist texts, Perez went to Straubel's home.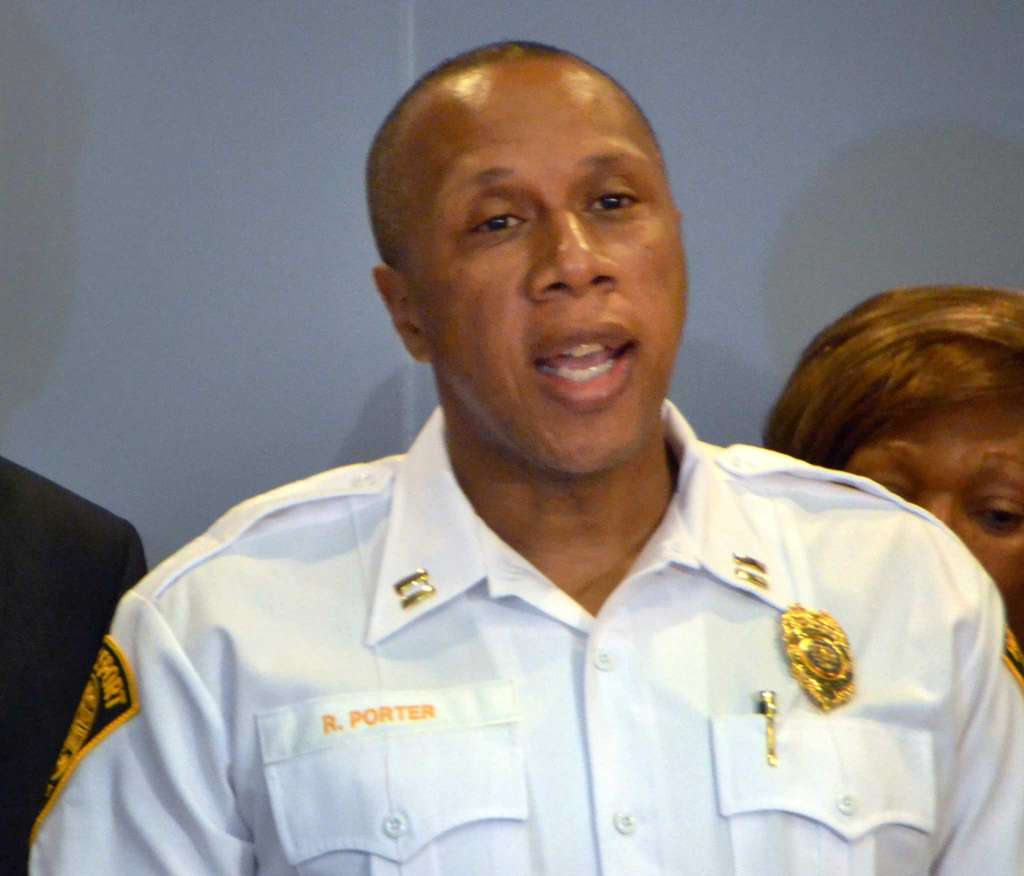 "Where did you leave the stuff you were working on for me?" Perez asks Straubel, according to the federal complaint written by FBI agent Jennifer Wagner that led to Perez's arrest accused of scheming results of the police chief selection.
The request was a reference to the draft answers to the oral examination questions that Straubel had prepped for Perez, insider information that had not been shared with any other police chief candidate. Straubel told Perez the information was stored on his police department computer. He offered to sneak into the police department to retrieve the information.
"Sneak in there for me, please," Perez responded according to the criminal complaint.
The government's 25-page criminal complaint brings into focus the timeline behind Perez's alleged efforts to seize materials no other candidate for chief had received including Porter who ranked third on the finalist list and thus was eligible to be chosen permanent chief by Mayor Joe Ganim, according to City Charter regulations. Ganim selected Perez, his long-time friend, whom he had elevated to acting chief in early 2016 following his return to the mayoralty.
It also shows a clear indication by Straubel to document a series of events against his boss he'd share with federal investigators. Ultimately the racist text messages would cause Straubel a lot of grief that led to his retirement from the department. Porter would file a human rights complaint against the city for how it handled the texts.
Several police sources familiar with Straubel and Perez agree that Straubel has the brain power to coach Perez on the exam. Perez, they say is a nice guy but not a test taker at that level. Lieutenant Brian Dickerson, who once commanded the Office of Internal Affairs, was also recruited to coach Perez during the application process.
Perez and former Personnel Director David Dunn were charged with allegedly rigging the police exam for Perez and providing false statement to federal investigators.
The government's complaint references Straubel as Officer 1, and Dickerson as Officer 2. OIB has confirmed through multiple sources of their assistance on behalf of Perez.
Excerpt from the timeline condensed from government's complaint:
February 26, 2018, the mayor sent Dunn a letter instructing him in his role as the Personnel Director to initiate an open and competitive examination for the position of police chief and to then certify to the mayor, within 150 days of the request, the three highest scoring candidates from that examination.
In March, Dunn hires search consultant Randi Frank to prepare and administer the examination for chief. She reported exclusively to Dunn.
The process included a review of candidates' résumés and cover letters, written exam made up of a questionnaire and two essay questions, telephonic oral exam conducted by Frank and a panel interview conducted by five independent panelists.
In May 2018, at the direction of Dunn, Frank commenced the search for a chief. Frank was told by Dunn there should be no requirement that a candidate possess a bachelor's degree, or any penalty for candidates who did not have one, something Frank found unusual. Perez was the only candidate without a bachelor's degree.
May 12, 2018, Frank sends Dunn an email with the subject "Revised Advertisement & Testing Questionnaire & Recommendations for Process." Attached was a "status report of work completed to date and recommendations on how to move forward with interview process as requested." Also attached to the email was a draft of certain confidential examination materials pertaining to the Written Exam portion of the Examination Process, including a questionnaire, essay questions, and scoring guide for the Written Exam. Frank's email specifically requested that Dunn "please keep very confidential."
May 21, 2018, Frank sends Dunn an email with the subject "Bridgeport Police Chief Search." Attached were the finalized questionnaire and essay questions that Frank intended for use in the Written Exam stage of the police chief Examination Process, along with the associated scoring guide, which set forth the points awarded for various types of answers on the candidates' questionnaires. Frank noted in the body of the email that the attachments were "confidential."
Dunn then agreed to provide secretly that confidential material to Perez to ensure that he performed favorably on the examination and thus would remain eligible to be in the top three. In particular, according Straubel who worked for and closely with Perez, the acting chief provided Straubel with a scoring guide for the questionnaire.
No other applicant received the scoring guide.
May 31, 2018, Frank sends Dunn an email with the subject "Status." The email noted that Frank had received résumés from six applicants. Later that day, Dunn forwarded Frank's email to Perez asking in his email, "R u ready to mail in your resume?"
Perez directs Straubel and Dickerson to help draft his résumé and cover letter for the position. The work was performed during police work hours and using police computers.
June 5, 2018, Perez sends an email invitation to a meeting the next day in his office. Officers confirm the purpose of that meeting was to work on Perez's résumé and cover letter.
June 6, 2018, shortly before the scheduled meeting with Perez, Straubel sends Dickerson an email with the text "Cover letter" and attaching a document titled "Document1." The document titled "Document1" is a draft cover letter for Perez that appears to be substantially similar to the one Perez eventually submitted to Frank.
June 8, 2018, Dickerson sends Perez an email with the subject "Document Review." Attached to this email was a draft résumé and cover letter for Perez that Straubel and Dickerson subsequently informed the FBI they had helped prepare. Straubel took a screenshot of this email, as well as a screenshot of his response containing suggested changes, which he provided the FBI.
June 9, 2018, Frank emailed Perez. "Just wanted to make sure you have a copy of the profile for the Police Chief Search – the deadline i[s] June 15 for résumés and cover letter to me and my partner as indicated on the attached." Approximately 15 minutes later, Perez responded by email, "Thanks, I have completed all the required material and will submit it on Monday."
June 11, 2018, Perez sends officers email invite for a meeting that day at 11:30 a.m, for the purpose to complete his résumé and cover letter. Less than an hour after meeting Perez emailed his résumé and cover letter to Frank copying Dunn to apply for the police chief position. Other than address modifications, the cover letter and résumé that Dickerson had sent Perez on June 8, 2018 was substantively identical to the one that Perez emailed to Frank.
June 18, Frank emailed Perez and the other ten remaining candidates informing them that she had reviewed their resumes and believed they met the minimum qualifications for the position. As a result, because the police chief position was "under the Bridgeport Civil Service System," a "written test is required." Frank explained that the written exam portion of the process consisted of a three-page questionnaire and two essay questions. Frank's email directed that each candidate had to personally complete the written exam. "The attached Written Exam/Questionnaire will be graded so please complete yourself and please provide accurate/truthful information."
Dunn asks Frank to implement changes to the scoring system for grading the questionnaires, all of which benefited Perez such as modifying the scoring system to: award more points for duration of law enforcement experience; eliminate any penalty for not residing in Bridgeport; and eliminate any penalty for the lack of a bachelor's degree.
June 21, 2018, Perez meets with Straubel and Dickerson for help to prepare his responses to the written exam and essay responses. Officers substantially completed both essays including researching, drafting, and editing Perez's responses, some of which was done while at work.
June 25, 2018, Perez emailed his completed written exam to Frank and copied Dunn among others. Frank wrote back to Perez, "It is not appropriate for David (Dunn) to have a copy – no other candidate is doing that – all the questionnaires will be graded by me and David will see all of them at the same time." Approximately 25 minutes later Perez forwarded Frank's email to Dunn writing, "David, you are the Civil Service Director no one ever told me that you are entitled to see my essay, I am confuse." After Frank spoke with Dunn, Frank wrote to Perez, "David said he has not reviewed so everything is ok."
Frank scored the Questionnaire and Essays. The changes to the scoring guide Frank made at the direction of Dunn increased Perez's score.
July 17, 2018, Frank emails Perez. "You did pass the written exam so you will now move on to the oral exam – a telephone interview with me … . [T]he oral exam will be part of the process to determine who are the finalist candidates."
Frank sends Dunn an email with the subject "Status Report for Police Chief Search." That email had two attachments. The first attachment was titled "Police Chief Search Status Report july 2018." The second attachment was titled "Draft oral exam for top 8 Police Chief Candidates," which contained "the oral interview questions that I plan to use."
July 18, 2018, Dunn forwarded that email (including attachments) to Perez writing, "Call me please."
July 20, 2018, Perez directs Straubel to access his city email account and print the attachments to the July 18, 2018 email from Dunn.
Straubel took photographs of the attachments to Dunn. He subsequently provided them to the FBI.
Perez instructs Straubel to use the questions that Dunn had provided Perez to draft answers
that Perez could use in his Oral Exam with Frank.
Straubel was placed on administrative leave upon discovery of the racists texts involving Porter before he could complete draft answers to the oral exam questions for Perez.
Straubel's Racist Texts
On July 26, Perez was notified by Internal Affairs that a citizen's complaint had been filed by a retired police officer against Straubel.
In the text thread Straubel writes in an exchange with a friend:
"I asked porter if he had seen planet of the apes

He said … yes

I asked him if it made him homesick."
The remarks were about Porter, the highest ranking African American in the department.
In the exchange attributed to Straubel he adds "He's not even marching in the nigger parade but I have to," a reference to Bridgeport's Juneteenth Parade, a date that symbolizes the end of slavery for African Americans.
The government's complaint includes this footnote:
Government footnote: Officer-1 is a former BPD officer who has been interviewed by the FBI multiple times and provided information to the FBI with no promise of any benefit. Officer-1's information has been corroborated by other witnesses, emails, photographs, and recordings. Officer-1 was put on administrative leave by ARMANDO J. PEREZ, the defendant, in July 2018, and eventually retired from the BPD, following a report to BPD Internal Affairs that Officer-1 had used racist language in certain electronic messages to another BPD employee.
July 30, 2018, after directing Straubel not to return to the office, Perez visited him at his home. Straubel recorded the conversation on his cellphone.
"Where did you leave the stuff you were working on for me?"
Straubel responded that it was in a file stored on his police department computer. He offered to sneak into headquarters in order to pick up the materials.
Perez: "sneak in there for me please."
August 1, 2018, Straubel spoke by phone with Perez which Straubel recorded at the direction of the FBI. Straubel asserted he had tried to go to police headquarters the prior night, but that it was "just a little much," and he asked Perez if he wanted him to try to get in again.
Perez: "If you can do it please. Cause I'm running out of time. And you're the only one who can help me."
Perez told Straubel the best way to sneak in, including which doors and stairs to use, and the best time to go in to increase the chance that nobody would be around. When Straubel suggested that the two of them could go over the materials together in the future, Perez responded, "Yeah," and that he needed to "start studying."
August 2, 2018, Straubel spoke again by phone with Perez in a recorded conversation.
Perez: "And if you can bring me that stuff. I'm lost here man."
Straubel responded that he thought he "remember[ed] some of the test
questions," and would try to get them together.
In a call later that day Straubel told Perez he was "trying to struggle through the questions," but was not yet done. Perez responded that Straubel should not "worry about" that, and focus instead on his own employment situation.
August 9, 2018, Frank conducted oral exam with Perez by telephone. Frank concluded that the applicants scored fairly evenly on the oral exam.
September 4, 2018, Frank invited Perez and other six remaining candidates to participate in the final stage of the Examination Process, a panel interview with five independent panelists, including Frank. The Panel Interview was eventually scheduled for October 19, 2018.
September 10, 2018, the Connecticut Post published an article critical of the secrecy surrounding the police chief hiring process. Perez was quoted "I'm a candidate," and stating "That's all I know … . I've stayed away from (seeking details about the search process) just to make sure it was objective … . I don't want anybody to say 'A.J. influenced.'"
In response to this article, Dunn circulated an email to the Mayor's office with bullet
points for a proposed statement outlining how the selection process had worked and detailing how it complied with the City's Charter. Dunn specifically suggested that the City's response should emphasize the "Confidentiality of the test questions/candidates/examiners,"
Dunn's input was incorporated, in part, in an October 30, 2018 "op-ed" by the Mayor defending the integrity of the City's police chief selection process.
October 9, 2018, approximately 10 days before the panel interview Dunn sent Perez an email
with the subject "Attachment" and attaching a document titled "Bridgeport Police Chief Questions," which contained 42 suggested questions for the panelists to ask, 15 of
which were highlighted.
October 11, 2018, Dunn forwarded Frank's email with the "Bridgeport Police Chief Questions," from his City email account to his own personal email account.
October 15, 2018, approximately four days before the panel Interview, Dunn texted Perez
"Call me regarding sgt exam."
In advance of the October 19, 2018 Panel Interview Frank provided the five panelists with her notes from each candidate's previous Oral Exam. She also provided the panelists with each candidates cover letter, résumé, and essays, which in the case of Perez had been prepared by Straubel and Dickerson at Perez's direction.
October 17, 2018 according to a panelist who was one of the five interviewers selected by Frank and Dunn, Dunn called panelist at home. During that call, Dunn stated that the mayor wanted Perez to be "in the top three."
Panelist characterizes the statement to be "totally inappropriate" given his position and the importance of the independent examination process.
Editor's note: Dunn denies claim he made the remark to the panelist about the mayor.
October 19, 2018, Frank provided the rankings to Dunn who certified the three highest-ranked candidates, including Perez to the mayor.
October 19, 2018, after learning that he had placed in the top three–and therefore was eligible to be selected by the mayor for the police chief position Perez spoke to Straubel by phone, a call recorded at the direction of the FBI. During that call, Perez says he had placed second in the police chief test.
"I owe this to you."
November 5, 2018, Ganim announces he had selected Perez as permanent chief.
Perez received a five-year contract at an annual salary of $145,428. In addition, Perez cashed out more than $300,000 of accrued leave time.
According to a Connecticut Post article, after his swearing in ceremony, Perez publicly "insisted he was given no shortcuts by City Hall: 'I did this on my own.'"