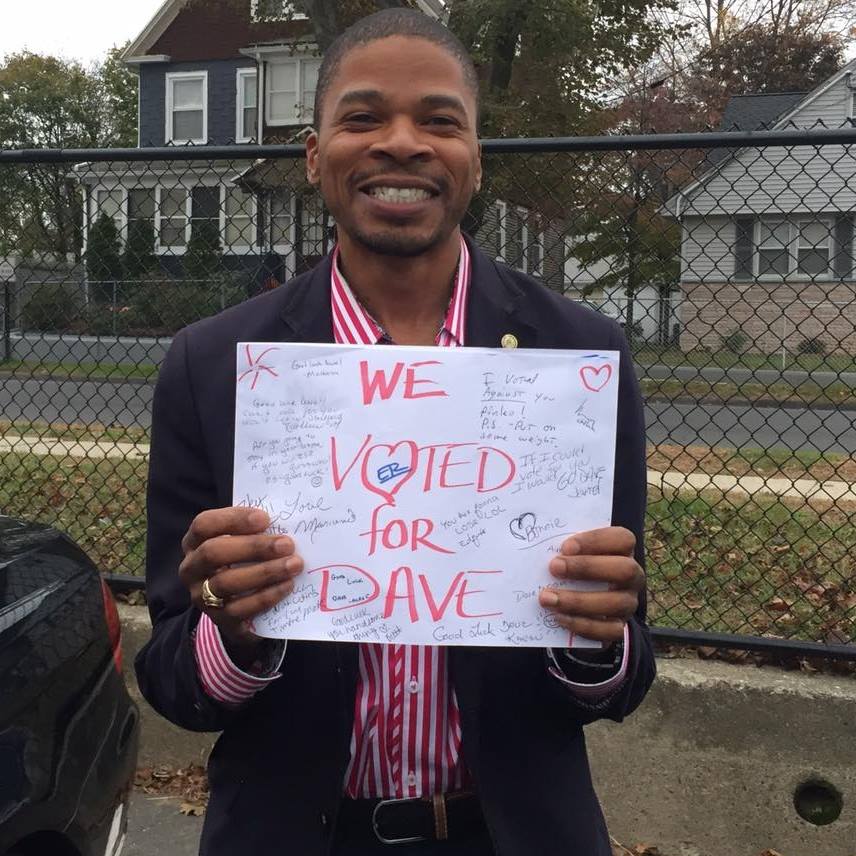 You see a lot working in the emergency room of Bridgeport Hospital. Just ask Dave Harden, an EMT supervisor and three-term Democratic Stratford town councilman on the verge of filing paperwork to seek the State Senate seat of Dennis Bradley who's scheduled for federal trial in February charged with corruption of Connecticut's public finance system.
For Harden, attending to patients and communicating with family is a way of life that provides a front-row perspective on pain, suffering, courage and strength.
"Working at Bridgeport Hospital I am able to see the needs within the community from the families coming in the emergency room, diversity of lives and lifestyles; the births of babies to the lives of loved ones taken by senseless crimes and violence which have really opened my eyes to the needs of people," he says. "During my time working in the emergency room, you learn how to listen."
Raised in the East End of Bridgeport, Harden has deep roots in the city he feels provides a personal touch with an outsider's point of view.
"I grew up in the East End, my family owed three houses in addition to a restaurant located on Stratford Avenue. I attended Newfield School where Mrs. Tisdale was the principal. My mom kept us out of trouble by keeping us involved in community events which also included attending church."
While most Bridgeport pols, for now, are taking a wait and see approach about the outcome of Bradley's case, Harden may very well be the first to jump in officially to file paperwork in early January.
He intends to "focus on the needs of the city of Bridgeport and not the political quarrels. It's time to push forward with changes that work."
Candidates waiting on Bradley's future is fraught with uncertainty as it collides with key timelines to build support and raise public money parceled out by the state following party endorsements in May in advance of an August primary season. Bradley, stripped of all committee assignments, is awkwardly scheduled for trial while the state legislature will be in session.
Connecticut's 23rd Senate District covers roughly two thirds of Bridgeport and a portion of western Stratford very much aligned demographically with the city's East End. As a multi-town district, challengers to the endorsed candidate have two options to qualify for a primary: 15 percent delegate support at the convention or petitioning via signatures.
Assuming Bradley's February trial stays on schedule, jury selection and length of trial will likely push a verdict on the cusp of March. Raising public money is labor intensive, requiring roughly 300 donations from Bridgeport and Stratford amounting to more than $15,000 to achieve a public grant nearly $100,000 indexed by the state.
Connecticut's Citizens Election Program of publicly funded races is the centerpiece of the federal government's case against Bradley, accusing him of conspiring to manipulate donor cards in a quest to receive roughly $200,000 in grants for the primary and general election in 2018. The government has charged him with multiple counts of wire fraud, the go-to citation for anything that involves electronic communication.
Multiple Bridgeport pols are weighing a run for Bradley's seat. A recognizable face at community events, Harden is not unknown to many city political players. Could a large field of Bridgeport candidates provide advantage to a Stratford resident? Harden is not counting on that. He intends to court support as someone with a history of working collegially.
The Stratford Town Council, by a special act of the state, is term limited. Harden has just completed six years on the legislative body covering three terms. Talk to Democrats and Republicans in Stratford and Harden is well-liked.
Unlike Democratic-dominated Bridgeport, Stratford fashions a two-party system that Harden asserts behooves bi-partisanship. Republican Laura Hoydick was just reelected to another four-year term as mayor.
Harden's work on the council has focused on community policing, blight issues, replacement of sidewalks, safety lights for the parks and playgrounds, resurfacing of baseball fields.
"During my time I was able to work with the other side of the table to come up with a budget with a zero increase."
For Harden, it appears the time is now. He intends to file candidacy paperwork shortly after the new year.