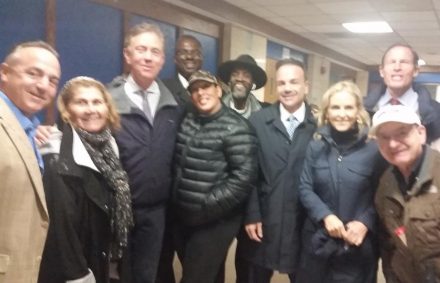 Talk about a long day's journey into the next morning, the statewide result for governor shows Democrat Ned Lamont the winner with Bridgeport delivering a 16,000-vote plurality over Republican Bob Stefanowski, according to unofficial returns on the Connecticut Secretary of State's website. See statewide results here.
Lamont/Bysiewicz addressed supporters, media Wednesday afternoon
Stefanowski issued a statement shortly after 9 a.m. Wednesday conceding the race to Lamont.
"Earlier this morning, I received a call from Bob Stefanowski," said Lamont in a statement. "After a long campaign, he could not have been more gracious, and I could not be more appreciative. I look forward to working with him, because we all need to come together–regardless of party–to solve our state's biggest challenges.
"I'm humbled and I want every resident to know how grateful I am for this extraordinary honor. I will work every day–honestly and thoughtfully–to move this state forward and be a champion for Connecticut."
Lamont will receive the oath of office in January. He'll face a number of sobering issues led by the state's fiscal battle. In addition new revenue sources such as tolls, marijuana and gaming will be on the table.
The statewide results show Lamont with 658,353 to 640,369 for Stefanowski with about 6 percent yet to report, including New Haven precinct results. The New Haven Independent reports, however, that Lamont leads in New Haven 22,035 to 3,919. New Haven experienced a chaotic election day with machine breakdowns.
Lamont has 20,847 votes to Stefanowski's 4,916, according to the unofficial Bridgeport count.
Democrats picked up legislative seats and will enjoy the majority in both the State House and Senate.
Sampling of unofficial results in Bridgeport for governor, a few precincts missing: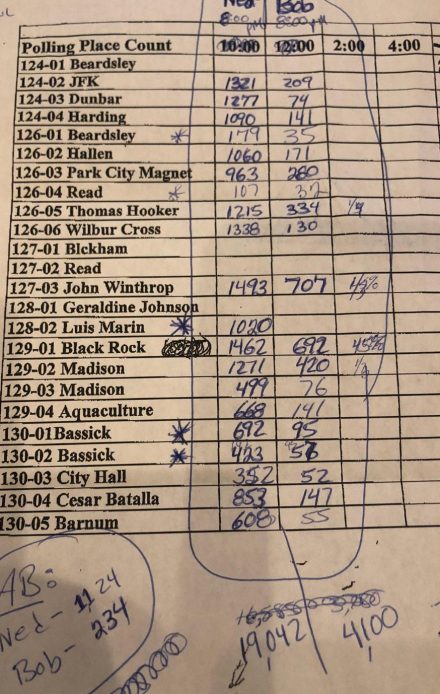 Statement from Stefanowski:
A few moments ago, I called Ned Lamont to concede the race for governor and congratulate him on a hard-fought victory. I wish both Ned and the state of Connecticut success over these next four years.

While this is not the result we would have hoped for, I am glad that we were able to draw so much attention to the tax burden in this state. Think about it–at the beginning of this race, we were laser-focused on cutting taxes, while other candidates were talking about raising taxes. We were able to mold the discussion in such a way that the other candidates slowly began to come around to the same conclusion to varying degrees.

I am hopeful that by relentlessly focusing on that issue we've started the conversation on how we can start to bring the tax burden on Connecticut families down.

Words cannot express how humbled and honored I am at the tremendous support we received from people all across Connecticut during this campaign.

This road hasn't been easy on any of us, but I want to thank my incredible wife Amy and my 3 beautiful girls for taking this journey with me–for having my back throughout this campaign–for putting up with the late nights and the nasty ads–and for encouraging me when I questioned whether we were doing the right thing.

I also want to thank to thank our army of tireless supporters who donated, put in countless hours on the phones, knocked doors, and helped to get out the vote.

I will be forever grateful for the love and support this state has shown me, my family and this campaign over the last year.

I have learned a lot over the course of this campaign, but the biggest takeaway for me has been the realization that CT is one big family. That won't end with the campaign. We will continue to share that bond regardless of today's outcome.