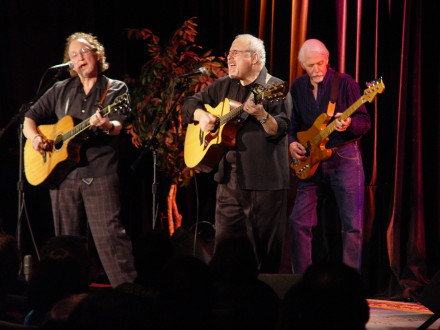 The legendary folk duo Aztec Two-Step, Bridgeport's own Rex Fowler and his songwriting collaborator Neal Shulman, is making a special appearance at the Discovery Museum on Park Avenue. Check it out!
Renowned folk-rock duo Aztec Two-Step will perform a magical acoustic concert under a celestial display of galaxies and light in the full dome planetarium at The Discovery Museum's Henry B. DuPont III Planetarium on Saturday, May 10th, at 8:00 PM, 4450 Park Avenue, Bridgeport, CT 06604, tickets: $25, www.discoverymuseum.org/museum/museum/events/musicunderthestars.html 203-372-3521.
Bursting on the scene in 1972 with their self-titled debut on Elektra Records, Aztec Two-Step's first album and three subsequent albums for RCA Records were staples of progressive FM and college radio, and helped usher the music of the 1960s into the '70s and beyond. Since then, Rex Fowler and Neal Shulman have spent a lifetime making music together as the folk-rock duo that takes its name from a poem by beat poet Lawrence Ferlinghetti.

Richard Cuccaro, publisher of the esteemed NYC music magazine Acoustic Live states, "Aztec Two-Step is possibly the best acoustic duo in the world today" while Variety stated, "… the right sound at the right time … beautiful acoustic guitar playing and questioning lyrics … songs performed with forceful vocals and near perfect instrumental harmonies."

Recording and touring non-stop since the early '70s, Rex and Neal have accumulated forty-plus years of awards, accolades and TV and radio appearances that include the David Letterman Show, World Café Live, and the King Biscuit Flour Hour, and have graced countless stages including those of Carnegie Hall and Lincoln Center. In 1987, the duo's "Living In America" received the New York Music Award for Best Folk Album and was named in Billboard's year-end critic's poll, and in 1999 they were the subject of "No Hit Wonder," a documentary that aired on PBS.

In 2005, they released a career-defining "Days Of Horses" CD to rave reviews. Five of the album's eleven songs, including their baby boomer anthemic "Better These Days," were penned by Neal Shulman. And, the title track "Days of Horses," written by Rex Fowler, was used as the opening and closing music in the 2012 documentary "Selling Cars in America." Of this CD release, the Boston Globe said, "Fans of the duo's harmony-driven tunes and easygoing acoustic guitar riffs will recognize their James Taylor-meets-Simon & Garfunkel sound. What's new is the mood. This album sits back on its haunches as Rex Fowler and Neal Shulman look back wistfully at American pop culture and their own ride through it."

In 2007, the duo's song "The Persecution and Restoration of Dean Moriarty (On The Road)," initially released on their debut album, was included in Rhino Records' "Forever Changing-The Golden Age of Elektra Records 1963-1973," the story of this landmark record label and the music that defined an era. The song, according to Jack Kerouac's biographer Dennis McNally, was the first recorded about Kerouac's iconic novel On The Road. Also in 2007, Real Simple magazine named the duo's self-titled debut as one of the top five classic folk albums, joining works by superstars Bob Dylan, Judy Collins, Tom Rush and Phil Ochs.

The duo's 2008 live recording "Time It Was–The Simon & Garfunkel Songbook" (Red Engine Records), features narration by the late legendary deejay and music historian Pete Fornatale, who provided commentary and insights based on his interviews with his pals Paul & Artie. Rex & Neal's 1972 Elektra debut often had them reviewed as having the "east coast sensibility," "intellectual lyricism," and "ethereal harmonies" of Simon & Garfunkel, so while possessing a rich musical legacy of their own, few groups, if any, have been more qualified to interpret and perform the timeless songs and harmonies of their legendary predecessors.

Finally, in 2012, to commemorate their 40th Anniversary year, Rex and Neal released their 10th studio CD "Cause & Effect" (Red Engine Records). It is a collection of 16 socially significant songs, produced by Paul Guzzone, who also produced their "Days of Horses" CD, and features their long-time bassist Fred Holman. The album is a combination of re-worked previously recorded songs and newly mined material.