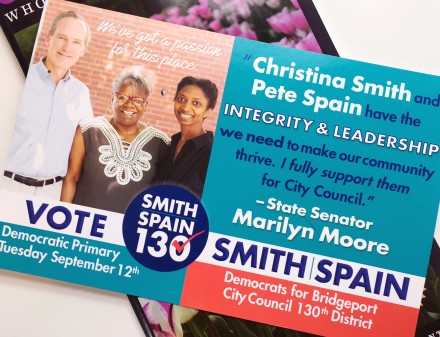 Members of Greater Bridgeport Young Democrats are in a bit of a pickle in its resurgent political activity. And it could create a sour note, or at the very least an awkwardness, in the Black Rock/West End 130th District where the organization has endorsed City Council candidate Pete Spain while its Vice President Rowan Kane was endorsed Monday night by district Democrats with incumbent Scott Burns. So the Young Dems veep is an opponent of a guy the organization has endorsed. Hmmm.

Spain was endorsed by the Young Dems a few weeks ago. His running mate Christina Smith was not. Katie Bukovsky, the sister of Black Rock District Leader Danny Roach who also serves in the Ganim administration, opted out of another council term. The search was on for a running mate to join Burns as a deadline loomed to endorse candidates. Roach holds the endorsement cards. Kane was endorsed.
Kane, who is new to Black Rock, has spent a lot of time in Bridgeport the past few years as a political operative including serving as deputy campaign manager for Congressman Jim Himes' 2016 reelection. He's also a teacher at Sacred Heart University. He's one of the many bright, young guns becoming involved in city politics which is a good thing. The split loyalty among Young Dems, however, is being noticed. What kind of resources do they provide Spain versus Kane?
"Before I became a candidate for city council, the Bridgeport Young Dems voted as a body to endorse Pete (Spain) and Kyle Langan in the 132nd," says Kane. "Going forward, we'll be endorsing other candidates. To be fair to the process and to my friends in the group, I will not be seeking the group's official endorsement and will urge the group to endorse my running mate, Scott Burns."

The dynamics of this race are intriguing. Smith and Spain, framing themselves as establishment fighters, have been working the district and dropped their first mail piece this week with a resounding endorsement from State Senator Marilyn Moore who is fussy about candidates she supports.
Last year Roach, when he was then Ganim's chief of staff, openly supported City Council President Tom McCarthy over Moore in a Democratic primary. That, in itself, was an awkward moment, the mayor's top soldier supporting the City Council president who worked against Ganim in 2015 over an incumbent state senator who influences the flow of dollars from Hartford to Bridgeport. Not exactly team building on behalf of your boss. In those situations it's better to stay out of it. Gee state senator, asks Ganim, can you help me with this in Hartford? Gee mayor, replies Moore, you've sicced your chief of staff on me. That may not be the precise language, but that's the sentiment.
Moore crushed McCarthy in Roach's backyard.
Moore takes note of these slights. Coupled with her strong relationships with Spain and Smith brought an early endorsement.
The 130th District has three basic geographic pieces to cull votes, active Black Rock School voters generally west of Ellsworth Street focused on taxes, property values, quality of life issues and government accountability. This is one of the highest percentage turnout areas in Bridgeport and the wealthiest city neighborhood. Then there's the Aquaculture precinct, what the pols call the lower half of the district, featuring working class voters. It's what generally rescues Democrats from insurgent Republican candidacies in Black Rock, the last bastion of GOP registration. The precinct features two key areas where Dems scour votes, P.T. Barnum Apartments and a piece of the neighboring West End.
P.T. is quarry for absentee ballots. It's typically the area where Dem Party operatives bank votes, be it primary or general election. In a primary like this, the three key areas must all be worked.
Smith/Spain and Burns/Kane will work as respective teams, but the top two finishers among the four go on to the general election.
The Young Dems endorsement of Spain creates quite an individualistic talking point at doors.
"Why should I vote for you?"
"My opponent endorsed me."
Scott, can ya feel the burns?