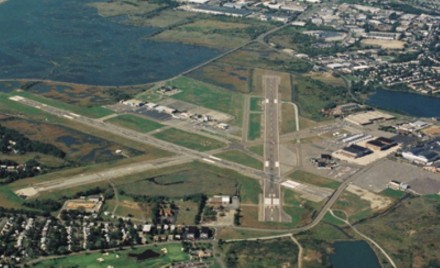 Sikorsky Memorial Airport is owned by the city but located in the Lordship section of Stratford where neighborhood residents aren't exactly flying high about a modern aviation hub. Expansion opposition from Stratford, runway issues and decades of inaction all contribute to the airport's financial drain on the city. About 25 years ago then-Governor Lowell Weicker considered a state purchase of the airport to infuse the cash-strapped city with new revenue, but balked at the thought of Stratford's opposition and potential issues with the Federal Aviation Administration. About 20 years ago Donald Trump pondered a purchase of the airport property to build an Indianapolis-style racetrack that included a direct fly-in to events. Again opposition prevailed. City officials would like to market it for sale.

CT Post reporter Brian Lockhart has more:
But behind-the-scenes, Sikorsky is a financial headache for a city which struggles to balance its budget.

"The whole is the sum of the parts," said John Ricci, the city's director of public facilities. "The sum of the parts could be making money, but the whole is losing it."

Ricci said Sikorsky is operating at a loss of around $500,000 a year, not including money Bridgeport needs to spend on upkeep and infrastructure improvements.

"You're talking buildings now nearly 50 years old," Ricci said. "Anything could go at any minute."

It is not exactly a compelling sales pitch. Yet Ricci and Mayor Joe Ganim's administration are contemplating getting Sikorsky off Bridgeport's books by selling it to the state or, less likely, to a private operator.

"It could be a premiere general aviation (and) corporate airport," Ricci said.
Full story here.