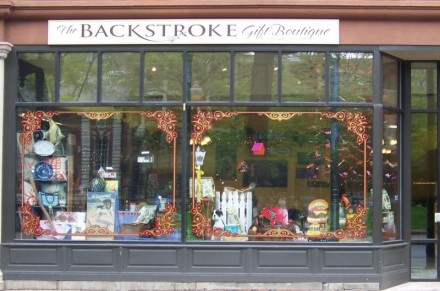 Let's step up for Bridgeport businesses. Yes, free plugs for your favorite shops, eateries, saloons, liquor stores, car dealerships, destination points, even strip joints. Let's put OIB buying power to work. We'd love to hear your recommendations for holiday shopping–North End, South End, East Side, West Side, Black Rock, Brooklawn, Upper East Side, East End, The Hollow, West End and all other neighborhoods in the city. Let's do this.

Here's a recommendation for stocking stuffers: The Backstoke Gift Boutique www.thebackstroke.com on State Street downtown. No one cracks backs into shape like the good doctor Jenny Lynne and her wellness center is a sweet spot for the little gifts that mean a lot. Check it out. You won't be disappointed. This place could charge admission just to walk in and inhale deeply, such is the aromatic intoxication.
The Downtown Cabaret Theatre–if you've never been you haven't lived–has a bunch of cool upcoming shows for children and adults. Mama Mia, Abbamania's coming! The DCT has joined Small Business Saturday where you can earn a $25 credit on your American Express account. Share your recommendations.
Shop with us on Small Business Saturday, November 24th, and earn a $25 credit on your American Express account!

We at Downtown Cabaret Theatre are proud to take part in Small Business Saturday this year, and we want to encourage you to Shop Small® with us on November 24th. Take advantage of our special offers:

Free $25 Club Cabaret Card with the purchase of $100 in Club Cabaret Cards (these make excellent gifts!)

Save 30% on a 3-show subscription to the Cabaret Children's Theatre: standard seats for 3 shows are just $37.80, and premium seats for 3 shows only $50.40. Talk about an excellent stocking stuffer!

Mix and match any 3 Cabaret Nights shows for a 30% discount*

American Express is providing a $25 Statement Credit Cardmember offer for Small Business Saturday. After you enroll your card** you can shop online at www.dtcab.com by phone at 203.576.1636, or in person at the Downtown Cabaret box office.