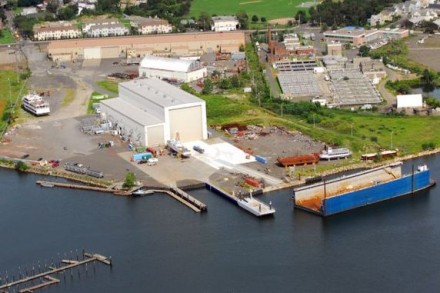 When he served as city development director and then head of the Bridgeport Economic Development Corporation Don Eversley viewed a shipyard project as a key momentum builder to the city's waterfront agenda. J. Goodison Company, a Rhode Island-based marine and industrial maintenance and repair contractor, had been selected last year by the Bridgeport Port Authority to breathe new life into the city's East End shipyard following the departure of prior tenant Derecktor Shipyards that filed bankruptcy. Eversley recruited Goodison for a Bridgeport presence. Eversley is gone and now so is Goodison.

Goodison and the city were unable to settle on a long-term lease deal. City development officials, according to an article by Jennifer Bissell of the Fairfield County Business Journal, believe they can do better.
A year ago it had seemed the hustle and bustle of Bridgeport's shipyard was about to return. A new shipyard operator was settling in, more than 100 new jobs were on the horizon and the local marine industry was anticipating an economic boom.

J. Goodison, a marine maintenance and repair company, had big plans for the shipyard. It had been vacant for months after luxury boat manufacturer Derecktor Shipyard declared bankruptcy and stopped paying rent.

"We're being flooded with phone calls from fishermen, ferry boat companies in Connecticut and New York, hub and barge operators," CEO Jack Goodison told the Business Journal November 2012. "You put it all together–the deepwater access, proximity to New York, size of the property–it's a recipe for success."

Fast forward a year, J. Goodison and much of the yard's equipment is gone. After investing roughly $300,000 in the property, Goodison said he and officials from the city and port authority were unable to reach a long-term lease agreement.
Full story here.