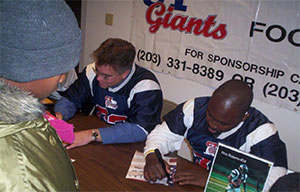 Bridgeport is generally alien territory for Republican candidates. John Shaban writes on his Bridgeport campaign web page "As the Republican candidate for US Congress in CT's fourth district, many people reflexively ask "what is your Bridgeport strategy" … as if Bridgeport is a foreign land in need of a foreign policy."

Shaban, who serves in the State House, is challenging four-term Democrat Jim Himes who defeated 20-year Republican Chris Shays in the Barack Obama election tsunami of 2008.
Connecticut's 4th Congressional District runs from Bridgeport along the shore to Greenwich and takes in suburban inland towns such as Easton and Redding. While Bridgeport, Norwalk and Stamford serve as Himes' Democratic base, he has also performed well in some suburban towns–appealing to blocs of unaffiliated voters–who are traditionally Republican.
Himes is well-financed for reelection while Shaban is money challenged in part because traditional Republican donors have backed away with Donald Trump leading the GOP ticket. Trump, himself, is being out-raised heavily by Hillary Clinton in key battleground states. Trump has abandoned his self-funded presidential campaign for donor support.
Lacking traditional financial resources, Shaban has been retail campaigning in areas of the city that is in fact foreign land for Republicans. And sometimes a Democratic friend is with him. Shaban, through their children's schooling and sports activities, developed a friendship with Mayor Joe Ganim who is featured on Shaban's Bridgeport web page. Juggling friendships and party alliances is not always easy, but Ganim does not appear to be running away from his friend.
I will meet and speak with folks in Bridgeport with the same attention, concern and frequency as I meet with and speak with folks in Darien, Norwalk and the rest of the district," declares Shaban's web page dedicated to Bridgeport. "In fact, I have family living in Bridgeport, and many of the neighborhoods in town resemble the neighborhood I grew up in, in Brooklyn, New York.

My message is consistent and straightforward–what's good for a kid in Darien is good for a kid in Bridgeport, and vice-versa.

More importantly, my campaign in Bridgeport will be a continuance of the work I started in Bridgeport well over a decade ago. I am not just another "election year champion" like too many of our other federal officials.
Shaban, a lawyer by profession, lists volunteer social service work he has performed in Bridgeport, neighborhood work in the city during his days as a semi-pro football player, as well as state funding he has secured for Bridgeport programs.
Video of Shaban and Ganim news event from February: