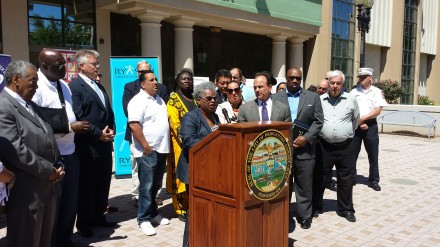 State Senator Marilyn Moore who was reelected overwhelmingly in 2016 without the support of Mayor Joe Ganim declared Tuesday night that Ganim cozying up to Donald Trump means he has "turned his ear and back on the people that elected him."

Ganim is attending Trump's inauguration on Friday asserting his history with the Republican presidential-elect could place the city in better position for Washington funding of city infrastructure needs. Ganim and Trump became friendly in the 1990s when Trump considered the city for development opportunities.
In 2015, Moore supported Mary-Jane Foster for mayor over Ganim and incumbent Bill Finch. Ganim defeated both of them in a Democratic primary on his way to a big general election win over petitioning candidate Foster and several other candidates. Ganim inspired large blocs of African American voters to the polls in his comeback victory.
Anti-Ganim political operatives are urging Moore to run for mayor in 2019. That's a ways off, but one thing's for sure, Moore and Ganim are not buds.
From Brian Lockhart, CT Post:
"I think he has turned his ear and back on the people that elected him," fumed state Sen. Marilyn Moore, D-Bridgeport, to the City Council at that group's regular meeting Tuesday night. "I am 100 percent against this."

"When he goes I will not forget it," Moore, who is black, added. "And I will not let our community forget it."

She also criticized the media interviews the mayor has given about his decision to witness Trump's ascendance, particularly comments televised Monday on Fox 61 news.

"It's almost to the point where he's flaunting that he's going," Moore said.
Full story here.