In March of 1860 Abraham Lincoln appeared in what is now known as McLevy Hall with the temerity, fortitude and force of will to appeal to the greater sense of people in the face of incredible odds, ignorance and fear. About one year after his appearance there he'd receive the oath of office as president of the United States. Monday night at McLevy Green protesters rallied against President Donald Trump's controversial immigration ban that they argue appeals to ignorance and fear. The plain-speaking State Senator Ed Gomes called Trump a racist.

CT Post reporter Dan Tepfer has more: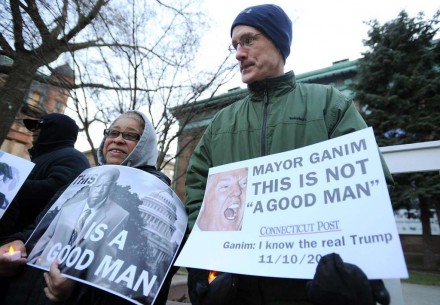 Isa Mujahid is the leader of Connecticut Corps Organize Now, another group that helped organize the rally.

"Our purpose is to eliminate racial inequities in our state," Mujahid said. "We want to make Bridgeport a sanctuary city."

State Sen. Ed Gomes, of Bridgeport, brought the crowd to a fever pitch, after he proclaimed: "We have a president who is a racist, and Bridgeport will stand against what this president stands for. In Hartford, we will stand against any ruling he makes that does not support our immigrants."
Full story here.