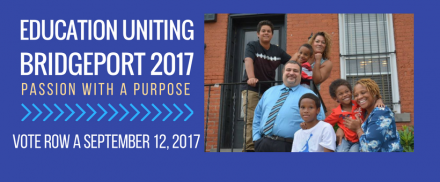 Wednesday, 4 p.m. is the deadline for petitioning candidates to submit signatures to the Registrar's Office to qualify for a September 12 primary, including three school board challengers to Democratic-endorsed Jessica Martinez, Chaila Robinson and Hernan Illingworth who'll have their first fundraiser that night at Uncle Buck's Fish Bowl & Grill inside Bass Pro Shops on the East Side.

They face a challenge from JoAnn Kennedy, Eric Stewart-Alicea and Helen Losak assuming the competing slate makes the ballot, needing 2,245 certified signatures.
Riding a slogan "passion with a purpose" the endorsed candidates are running on a campaign to end infighting and "personal agendas." From their Facebook page:
We are parent leaders taking a stand against the petty politics that have halted progress in our schools. For too long the focus of the Bridgeport Board of Education has been on infighting and personal agendas, and not where it belongs: On the 21,000 children of Bridgeport.

Enough is enough! Our community deserves better. Our children and our teachers deserve better.

Hernan Illingworth, Jessica Martinez and Chaila Robinson are all Parent Leadership Training Institute graduates, class of 2003, 2016 and 2017, with a combined total of 28 years of parent involvement and advocacy.