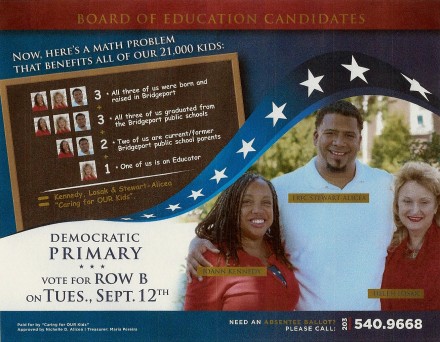 In campaigns numbers speak volumes. Three challengers–JoAnn Kennedy, Eric Stewart-Alicea and Helen Losak–to the Democratic-endorsed Board of Education candidates have math on the mind in more ways than one, securing 2,245 certified signatures from registered Bridgeport Democrats to wage a citywide September 12 primary against Hernan Illingworth, Jessica Martinez and Chaila Robinson. They're hustling in the heat for signatures, along with a team of volunteers with one week left to submit petition sheets to elections officials. There's the signature math, the calendar math and then, if they make the primary ballot, the results math on to the general election. First things first, the signature math.

Strategy is key to a successful petition drive. Fishing where are fish are so critical to landing registered Dems. Knocking on doors clutching a list of Democratic electors is good. Camping in front of a shopping center is bad. You'll just end up with a majority of bad signatures jettisoned by a review of elections officials. To guard against noncomplying hancocks petitioners must bank hundreds more than the 2245 magic number.
Calendar math: they have until 4 p.m. August 9 to submit petitions to the Registrar's Office. If the challengers are approved for the ballot all that hard work has a built-in payoff, you've spent a couple of weeks touching and identifying voters to drag out for September 12.
The challengers are armed with a walking piece with corresponding images declaring:
"Now, here's a math problem that benefits all of our 21,000 kids:

All three of us were born and raised in Bridgeport

All three of us graduated from the Bridgeport public schools

Two of us are current/former Bridgeport public school parents

One of us is an Educator

= Kennedy, Losak & Stewart-Alicea "Caring for OUR Kids"
The latter two are no strangers to primary math. Losak and Stewart-Alicea are members of the Democratic Town Committee in the Upper East Side 138th District whose leader Maria Pereira serves as treasurer for the campaign committee of the school board challenge slate. The three were part of a coalition that captured a DTC district primary last year.
So the heat, the sweat and the door knocking continues. All in the name of solving a math problem.