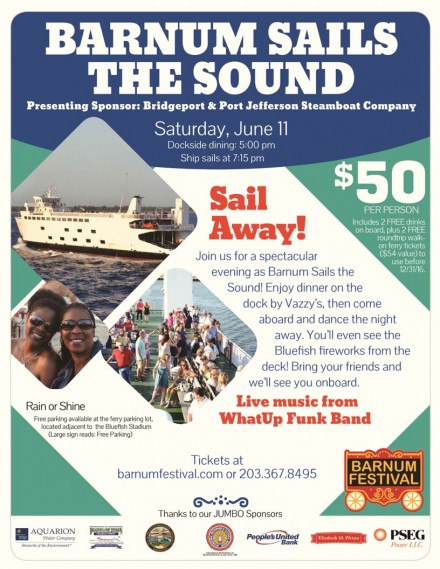 We're cruising close to the Barnum Festival season and former Mayor John Fabrizi is organizing the ticket push for Barnum Sails The Sound on June 11 aboard the Bridgeport Port Jefferson's P.T. Barnum ferry boat. Check out a festive night of funk and food.

Barnum Sails the Sound with The "WHAT UP" Funk Band!

Saturday, June 11, 2016 aboard the Bridgeport Port Jefferson's Ferryboat, The P.T. Barnum

· For $50 bucks, you get a Vazzy's catered dockside buffet from 5pm-7pm on the dock. Come enjoy grilled chicken, sausage and peppers, hot dogs, hamburgers, cheeseburgers, macaroni, potato and garden salads, water and soda
· 2 free drinks aboard the Sail, $5 per drink thereafter
· dancing to the WHAT UP funk band
· fireworks
· 2 tickets for future use on the Ferryboat good until 12/31/2016 (A $54 value), thanks to the Bridgeport-Port Jefferson Steamboat Company
· free parking

Bring your friends, come in large groups, ask your co-workers. If you own a business, you may want to buy tickets for your employees. Remember, the Barnum Festival is a tax-deductible 501(c)(3) charitable organization.

Come one, Come ALL. YOU WILL HAVE A BLAST!!!!

For tickets, you can call John Fabrizi 203-275-5966or the Barnum Festival Office at 203-367-8495.